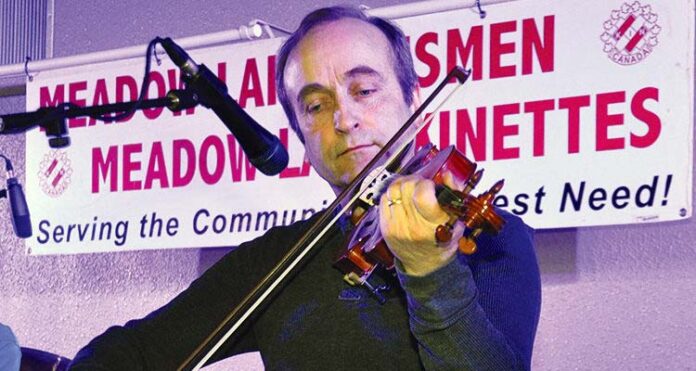 by Phil Ambroziak
After four decades, Meadow Lake's Telemiracle event continues to be one of the biggest fundraising endeavours the community has ever seen.
"Things went very well this year – in fact, the event went just as well as last year if not better, and that's all you can really ask for," noted Meadow Lake Kinsmen member Duane Horvey, one of this year's Telemiracle organizers.
While, provincially, Telemiracle has been around 41 years, the Meadow Lake radio-thon began one year later making this year the 40th anniversary of the local fundraiser. While Horvey said that's a milestone in itself, provincially Telemiracle raised more than $5 million for Saskatchewan's special needs population this past weekend (March 4 and 5). Meadow Lake's contribution, meanwhile, came in at close to $55,000.
"The community really showed its support," Horvey continued.
This was echoed by Kinsmen president Joey Alkestrup.
"The people of Meadow Lake and the surrounding area always step up and come through for Telemiracle each and every year," Alkestrup said."
The event itself included a wide array of local musical entertainment and provided both listeners and those in attendance at the Meadow Lake Civic Centre an opportunity to make a financial donation or place a bid on the more than 100 items up for grabs. Food was also served throughout both days, including a pancake breakfast Sunday morning, with funds going toward Telemiracle.
"The bands were great, as were the individual singers and other performers who took part," Horvey said. "The Northern Pikes Wrestling Club even stopped by Sunday to demonstrate their skills and to perform some exhibition matches. Again, everyone with the Kinsmen and the Kinettes are so pleased with how everything went – it was super."
Horvey joined the Meadow Lake Kinsmen last year and this year marked his first time being involved with the behind-the-scenes happenings at the local Telemiracle. While he doesn't have experience on his side, he's fairly confident as to why the event has proven to be so popular year-in and year-out.
"A big part of it is the fact Telemiracle has touched so many lives in one way or another," he said. "A lot of people have some sort of story when it comes to Telemiracle – either about how they've benefited personally or how someone in their family has, or just how someone they know has. Considering Telemiracle has been around as long as it has, many people have had experiences with it."
Now, with the 2017 event put to rest, Horvey said work will begin on the initial plans for next year's event.
"The Kinsmen meet every two weeks, so we'll be discussing this year's Telemiracle at our next meeting, what went well and how we can do things better," he said. "We're very much looking forward to next year. The whole process is about to start all over again."
Alkestrup concurred.
"We talk about Telemiracle all the time," he said.