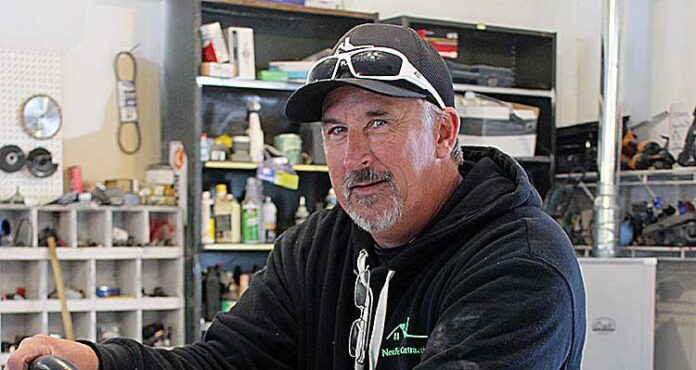 Some of the best local companies were honoured at the Meadow Lake and District Chamber of Commerce Business Excellence Awards recently, and among the winners was Neufeld Contracting owner Darryl Neufeld. Darryl spoke with Northern Pride about being named Small Business of the Year, his career as a carpenter and what it takes to be a business owner.
Q: What's it like being voted Small Business of the Year?
A: I was shocked. I was happy to be nominated, and quite surprised. I've never won an award like this before. I must be doing something right. I have happy customers and good employees – I couldn't have done it without them. Also, there's a lot of subcontractors who work for me throughout the year. I do general contracting, so I need electricians, plumbers, painters and drywallers. It takes a group of people to win an award like this… what I mean to say is that it was another group of businesses that made me look good because they build a quality product.
Q: When did you start your business?
A: I've been on my own for 20 years. Before that I was working for Wiklund Contracting and stayed there for 12 years. Shortly after I finished my journeyman provincial ticket, I ventured out on my own. I had a partnership with a Ready to Move (RTM) company, but I left that in 2011. The next year I started Neufeld Contracting.
Q: Can you describe the benefits of an RTM rather than building from the ground up?
A: We sold a lot of houses in Alberta when the boom was on. People we're buying houses from us and they were up to $70,000 cheaper then. We moved houses close to Edmonton and places like Bonnyville, Cold Lake and Lloydminster areas. We also moved houses south of Saskatoon. The RTMs started to slow down, so that's why I've been doing all the work onsite since 2012. I went to Canoe Lake First Nation twice in 2015 to supervise the band's crew and we built six houses.
Q: How big a staff do you have?
A: At this moment, there's four of us including me. We're just getting caught up on some of the smaller jobs and getting ready for the fresh starts in April. Everyone is in the apprenticeship program between their first and third years. My nephew, Scott Neufeld, who works for me is a journeyman welder, but wanted to try something new. He's been working for me about a year-and-a-half.
Q: Any trouble retaining staff?
A: Sometimes it can be challenging. Currently, there's only one person not related to me who works with us. Otherwise, it's all family now and it seems to be good. But, it's all about supply and demand. I've trained many guys, put them through the apprenticeship program, then, like me, when they get their ticket they venture off. There are numerous local people who moved on with their tickets who I've assisted with their programs.
Q: What types of building does the company do?
A: All we're doing right now is residential housing. We just finished a job March 12 helping a company out of New Brunswick convert a train trestle bridge into a bridge for hauling logs. That was 30 kilometres south of Meadow Lake OSB on the road to Chitek Lake. We had to tear the old top off and put a new top on it. We had to tear off all the ties and, in the last week, we worked in very cold weather out on top of that train trestle bridge.
Q: How many homes do you build in a year?
A: In 2016 we built three new houses plus a couple of garages. The last tenant moved in Dec. 22. We did one in town and everything else was in the country or the provincial parks.
Q: Does the cost of building materials change?
A: Prices do change – OSB is one of the big items that does. Steel and metal also go up and down, but otherwise it's not too bad. It all gradually goes up in price. People used to be able to buy a house package for between $30,000-$40,000, now it's upward to $100,000-$120,000. In the last 20 years, it's probably more than tripled in prices. It's all about supply and demand. OSB and plywood – those products fluctuate a lot. In 2012, I quoted prices on a whole house for OSB and my price was $6 per sheet. But, six months later, it had gone up to $12. It's hard to tell when the prices will increase.
Q: Where are you from?
A: I was born in Edmonton, but my parents moved to Meadow Lake when I was young. My parents, Ediwen and Louise, are originally from here.
Q: Did you always want to be a carpenter?
A: I got my journeyman ticket in 1992, but in 1985, I took pre-employment motor mechanics. I wanted to be a mechanic, but at that time, jobs weren't as plentiful and I couldn't get a job in town. So, my brother got me a job with Wiklund Contracting and it went from there.
Q: Tell me about your family.
A: I have a son and a daughter. Jonathan and Janelle both work for me. Janelle only works part-time, and Jonathan is a third-year apprentice. Working with him is great – I love it. He's getting more mature as he ages and it's great to be working with him.
Q: What do you like to do in your spare time?
A: I enjoy spending time with my grandchildren. My daughter has two kids and my son has one. We go quadding on the farm and spend lots of time there. We'll also go fishing and do stuff outdoors.
Q: What's it like living in the countryside?
A: I wouldn't trade it for anything in the world. There's peace and quiet and it's just great. When my grandkids come to visit, we'll grab the pellet guns and go for a walk in the bush. They just love doing those kind of things. They always come for camp overs. My one grandson lives close enough that we can go there in the morning and visit.
Q: Is there any time for vacations?
A: Because I'm so busy in the summer, I go away in the winter. I've been to Cuba seven times in the last five years. I love Cuba. The people are good and the sand is great. I like the beach and swimming in the ocean. My favourite spot is Cayo Coco because the airport and everything else is close. Cayo Coco and Cayo Santa Maria are my favourite spots I like to go to.
Q: Do you have a favourite National Hockey League team?
A: It used to be the Los Angeles Kings, but now it's Montreal because of Dwight King. I built Dwight's house for him and I travelled with his dad to watch him when Dwight was in the juniors. His dad and I are really good friends and watch both DJ and Dwight. This one time we went to the Winter Classic in Pittsburgh to see the Pittsburgh Penguins and Washington Capitals and that was unbelievable. That was about seven year ago when DJ was with the Capitals. They won and had a big victory party and I had my picture taken with a bunch of the hockey players.
Q: Which lakes do you enjoy in the Northwest?
A: I like Waterhen Lake, Greig Lake and Kimball. We also usually go camping at Pagan Lake on the May long weekend. That's about what I do for camping. The best fishing, though, is at Waterhen. I have two ice fishing shacks out there right now. One for my family and I, and one for my dad. This season it's been slow, but a bad day of fishing is still a good day at work.