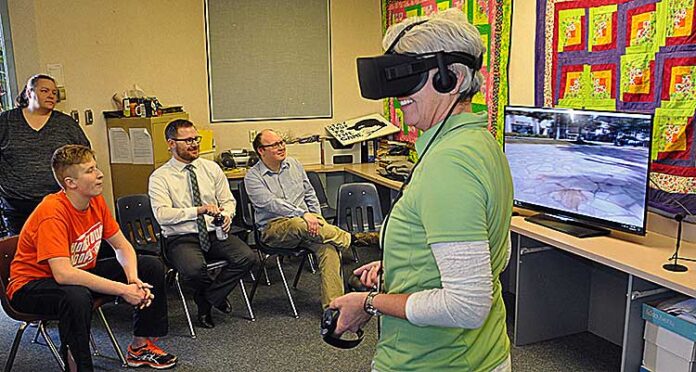 by Phil Ambroziak
Things just got real at Jonas Samson Junior High… or did they?
This past Friday (March 17), the school unveiled the latest tool to help students gain a better grasp of the various subjects they study in the form of a virtual reality system. The $5,000-unit, made possible through a donation from Innovation Credit Union, is packed full of programming designed to bring teaching to a whole new level.
"When I heard they (Northwest School Division) were looking for a school that might want to try virtual reality, I replied, 'me!'" remarked JSJH principal Jim Snodgrass. "What we have found already is the engagement level is super high and it's immediate. The student puts on the headset and he or she is just emerged in whatever you're showing them or whatever they're creating."
In terms of what virtual reality can offer when compared to traditional curriculum, Snodgrass said the options are significant.
"I'm a science teacher, for example, and the different programs you can put on the super computer right here is amazing," he said. "There is one I just downloaded two days ago about touring the space station. It's like you're floating and you actually have to pull yourself along. You're not walking, you're actually floating through the different sections, which is awesome."
Other programs sampled during Friday's unveiling included a Second World War experience, the creation of a virtual greeting card and a roller coaster ride through a living cell.
According to Davin Hildebrand, NWSD superintendent of human resources, introducing virtual reality in a school setting was the brainchild of NWSD learning and assessment consultant Matthew Grupp.
"Last fall, Matthew had an idea," Hildebrand said. "He was at the University of Calgary, where they have one of these systems, and he said it was absolutely amazing. It's not cheap, but no one else is doing this (at the non-university level), so we knew it was an opportunity and knew we needed to find a principal willing to take a risk. We talked to Jim and he was keen to get it going."
That's when the school division turned to Innovation Credit Union for support.
"We agreed because it supports student learning," noted Kim Ackerman, Innovation Credit Union's regional VP-north. "They are the future, and part of our strategic planning is about making bold choices. This is something that fits very nicely with our strategic direction."
Meanwhile, Snodgrass believes virtual reality will have a lasting impact.
"This has opened up something here we weren't thinking about four months ago, but now we are," he said. "Our students have been learning about certain things, then I bring them in here and they get to visualize in a 3-D space what they've learned. It's interesting to see if they've made those connections."