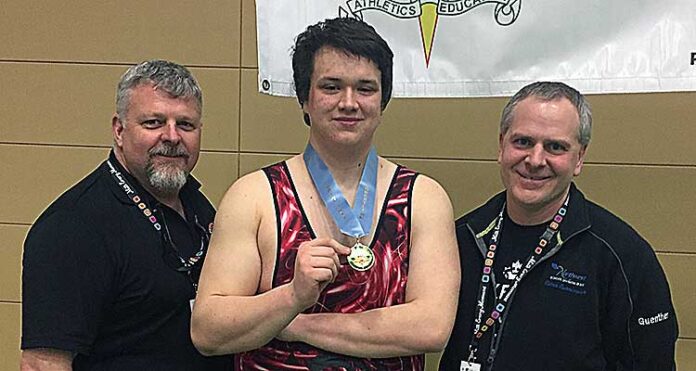 by Phil Ambroziak
History has been made at Carpenter High School.
This past weekend saw Grade 10 athlete Jacob Ambroziak go undefeated to earn a gold medal at the Saskatchewan High Schools Athletic Association (SHSAA) provincial wrestling championships held in Warman. The win marks the first time CHS has laid claim to a provincial wrestling title.
"It feels great to win gold, from a personal standpoint as well as for my team and for my school," remarked Ambroziak, who competed in the male 130-kilogram weight class. "I really want to thank my coaches, fellow wrestlers, friends, family – especially my mom who has encouraged me from day one – and everyone else who continues to support me throughout my wrestling career."
In 2014, Caitlin Villeneuve became the first and, until now, only CHS wrestler to capture a provincial medal when she earned bronze. This year, bronze medals were won by twins Skyla and Savanna Russell in the female 60-kilogram and female 64-kilogram events respectively, while Natalia Senger finished fourth overall in the female 80-kilogram weight class. Other Meadow Lake athletes who took part were Cody Barden in the male 65-kilogram event, Tavin Bear in the male 90-kilogram category and Jonas Samson Junior High student Skyler Barden in the female 53-kilogram division.
"Caitlin broke the threshold back in 2014 in terms of CHS winning a medal at provincials, but until this weekend, we've never had a provincial wrestling champion," reiterated CHS wrestling coach Jason Guenther. "We're all very proud of Jacob and the rest of the crew. With winning the 3A regional team trials for both boys and girls last weekend (March 10 and 11 in Moose Jaw) and now earning our first provincial gold, it's been a great year for wrestling at Carpenter High."
Fellow wrestling coach Chris Brownrigg agreed.
"Everyone who was a part of Spartans wrestling this year shares in that victory and will forever be a part of CHS' first regional wrestling championship team," he said. "As for Jacob, many sports legends begin with a quiet and shy character. The gentle giant in this story is Jacob. Uncomfortable with the spotlight, Jacob's humble nature hides the passionate competitor he is… to win the provincial high school championship with barely a dozen tournaments worth of experience speaks to this athlete's special accomplishment."
Guenther, meanwhile, has been coaching wrestling at CHS for 10 years, while the program itself has been in place for closer to 15 years.
"That's a long time to go without having one champion," he added. "And, this (SHSAA provincials) is one of the toughest wrestling events. The Saskatchewan Amateur Wrestling Association provincials is a strong event too, but it usually features fewer wrestlers making high school provincials the premier event."
Guenther also believes CHS' recent success at the provincial level could help the high school wrestling program grow in the years to come.
"Success breeds success," he said.