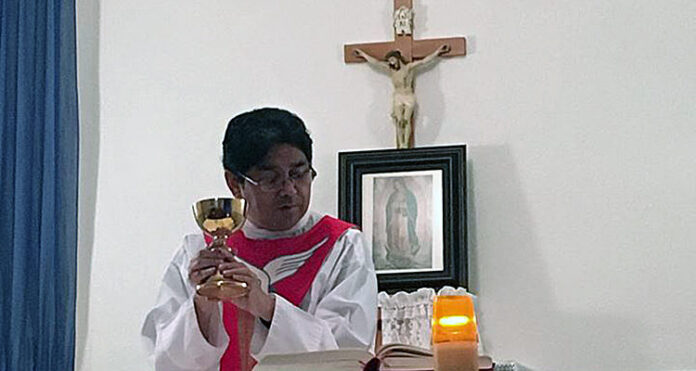 by Phil Ambroziak
A wayward shepherd has been reunited with his flock.
Congregations in both Loon Lake and Goodsoil welcomed back Fr. Javier De Los Angeles Cortazar on the weekend after a lengthy court battle that saw the 48-year-old priest defend himself against an accusation of sexual assault.
"We're delighted to have him back," remarked Barb Tracey, parish secretary at Sacred Heart Catholic Church in Loon Lake. "The church was full on Sunday and, yes, there has always been a lot of support for him."
Cortazar was charged in 2014 after an incident at a cabin near Goodsoil. The alleged victim's name was subject to a publication ban, but – when asked in Meadow Lake provincial court last week to state what Cortazar said to him during a confession – the complainant refused to answer. This resulted in Justice Gary Meschishnick to stay the proceedings – a move that saw Cortazar leave court without a criminal record.
"A stay in proceedings basically means this is the end of it," noted Cortazar's defence lawyer, George Green. "It could come back before the court, but that's rare."
Green, meanwhile, went on to confirm the charge against his client dated back to June 9, 2014 and had to do with allegedly touching the victim in a sexual manner without consent. Cortazar himself is originally from Monterrey, Mexico and began serving at Sacred Heart, as well as St. Boniface Catholic Church in Goodsoil and St. Antoninus Church in Pierceland in 2010. Once charged, however, he stepped away and the Roman Catholic Diocese of Prince Albert listed him as "on leave."
"We have a deacon who came down from Goodsoil to cover some services (during Cortazar's absence) and we also had another replacement come in," Tracey explained.
Following last week's court proceedings, however, the diocese has officially reinstated Cortazar.
"The diocese accepts the decision of the Crown prosecutor not to proceed with the charge against Fr. Javier (Cortazar)," stated diocesan spokesperson Louis Hradecki. "Fr. Javier will be reinstated to continue his pastoral work in the Goodsoil, Pierceland and Loon Lake parish cluster. We pray for peace for all involved in this case."
This past Sunday, Cortazar celebrated mass in all three communities.
"It's been a long and difficult process for him and for the parish," Tracey said. "He had a lot of support throughout, however, which says a lot for the parish and for the people in it."