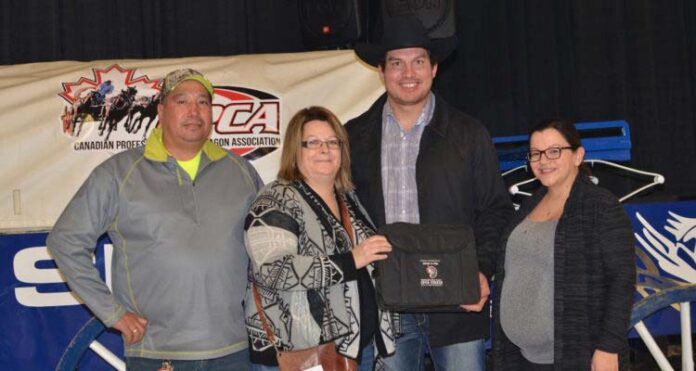 By Terry Villeneuve
Cash raised from the Canadian Professional Chuckwagon Association finals tarp auction April 4 is down as a whole, but up for the individual drivers.
"You're not going anywhere without sponsors and I'm glad to have been able to pick up more at this year's event," said three-year CPCA member DJ King of Meadow Lake. "Last year I was able to get $3,250 and this year my total was doubled to $6,500."
The annual auction, targeted at businesses who want a unique way of promoting their business during the August showdown in Lloydminster, garnered $122,000 in total from the 22 drivers who took to the stage for an average payday of $5,545. Last year's total was $159,000 for 29 drivers with the average being $5,482.
"We had a great turnout and a large enthusiastic crowd," said Mike Sidoryk, general manager of the Lloydminster Agricultural Exhibition Association. "With over $100,000 in sales, we are very happy how tonight turned out. However, the real work for us begins now doing all the final planning, getting the other special events in place to make this an exciting 25th anniversary and one of the best CPCA Finals Lloydminster has seen."
Track announcer Les McIntyre, who is also the voice of the Calgary Stampede's Rangeland Derby, hosted the event and acknowledged the support shown for the CPCA finals.
"It's an exciting new year with a new major sponsor in Denham Chrysler," he said. "All the great drivers are back along with some exciting new ones, there's some new sponsors getting involved and some old reliable ones as well. I am certainly looking forward to the 25th Anniversary of the CPCA finals here in Lloydminster."
One particular sponsor – Tait's Renegades – won the successful bid on two drivers. Moments before the start of the auction, company representative Angel Stewart stated her group had a couple of drivers in their sights.
"We're going to try and get both DJ and Daniel King. A lot of us follow them on the CPCA tour and it would mean a lot to us if we were able to reel them in," she said.
In the end her mission was accomplished.
"We're very happy to join their group and have a strong showing at the finals at the end of the summer," DJ King added.