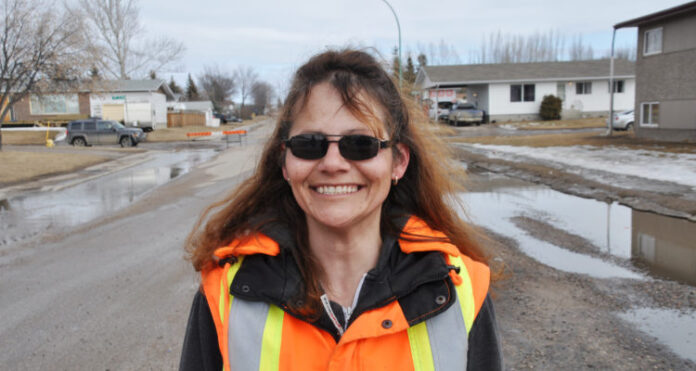 Employed with City of Meadow Lake's public works department since 2015, Lisa Harleman said she learns something new every day. Recently, Lisa spoke with Northern Pride about her position, her time as a food truck owner and why she moved to Saskatchewan.
Q: What's your role with the city?
A: I was originally hired as the public works clerk in September 2015 to take care of any administrative duties like work orders and getting the guys organized for what they need to do for the day. I took on the water operator role as well. I just received, in November, a class one certificate for water distribution and wastewater collection and treatment. Right now, I'm working on class two for water distribution. I like working for the city and we have a lot of good people working here who care. We all have the same goals – to have our streets nice and smooth. That's impossible right now because we're doing so much maintenance and the ground in some places has to settle for a year before we can pave otherwise it dips. But, we do our best to keep the streets looking good.
Q: What does earning a certificate involve?
A: It's hard. The class itself is five days long and all the information is in a thick book. Every day, we did tests and, at the end of the week, we did a 200-question exam. I took the class in Saskatoon and there were about 20 students – I was the only one from Meadow Lake. There's another employee working on getting a class one certificate right now. The city helps with it and sent me for the training. I did the class and wrote the exam in February of the last year, but like any other apprenticeship, I needed work hours and experience to back me up. When I got the hours in, city engineer Peter Mansuy wrote a letter to the board of the program and they approved me for class one. They felt I was a good candidate and I passed the test.
Q: What did you do before joining public works?
A: I worked for Tupper's Construction for three years as an administrative assistant, but before that I worked for Eagle Creek GM for three years in parts, service and reception. I've also gone to school and completed a lot of accounting courses. But, I've always had a passion for public works and Tupper's was shutting down their construction side and that's how I ended up transitioning to the city. I saw an ad in the paper and applied for a position at city hall, but when they saw I had water and sewer experience, they wanted me to take a position in public works. I was happy to take it because I also don't think there's a lot of women in that line of work. There's a lot of lighter duty jobs a woman could definitely handle.
Q: What's unique about your job?
A: I learn something new every day. Everything from the operation of hydrants and how to properly flush them to the exercising of our valves. We've been doing a lot of valve maintenance in the past year and we're going to continue to do that. With that, we have to excavate the site to get down to the valve to inspect it. We add stainless steel bolts and washers, then apply an anode so the corrosion doesn't happen as fast. We also put on Denso tape around it and backfill after that. We just want to make sure the operation of our valves is going well because there's nothing worse than needing to shut down one small area and having to chase 50 valves to isolate one area. Starting in the next week or so, we're going to be doing directional flushing and that will clean out all the water valves.
Q: What else does the public works crew do?
A: Aside from water and sewer, we also take care of the roads and sidewalks. We keep the main sidewalks clean and haul snow throughout the winter. Seasonally, we do different maintenance projects. If there's a blocked sewer at someone's house, we'll flush it out if it just needs flushing. We also organize the contractors if there's a contractor needed, like if there's a collapsed sewer line or something of that sort. We also turn on and off the water to customers. Currently, there's eight people on staff.
Q: Where are you from?
A: I was born and raised in Edmonton up until 1987 when I moved to Fort McMurray when my father got work up there. I moved back to Edmonton in 1992 when I was 16. I worked for a couple years and took night classes to earn my high school diploma. After that, I took restaurant management courses and opened a catering company with a coffee truck.
Q: What was it like living in Edmonton?
A: Busy. I couldn't wait to get out of Edmonton. I like Meadow Lake because it's quieter and isn't a congested city with all kinds of busy people.
Q: Tell me about your catering truck.
A: I sold more than 500 different items. I would pull up in my truck and there was a kitchenette in the back where I'd open the door. In the very back, I kept all the cold stuff like sandwiches, salads, chips and pop. Next to that, I kept the hot stuff and had an oven. I had fresh soup daily as well as coffee, tea and hot chocolate. I enjoyed doing that. I got to meet people from all walks of life. I met the lowest worker right up to the company's president because I'd park outside different businesses. Also, I enjoyed the look on someone's face when they'd bite into one of my sandwiches and I'd know it was good.
Q: When did you move to Meadow Lake?
A: I moved here with my three sons in October 2008. I came here because I thought it would be an adventure. Before this, I lived in Fort Saskatchewan but I came to Meadow Lake in 2007 for a fishing trip. I love fishing, camping and being outside, and I fell in love with all the lakes and thought about a way to move here. Then, my mother, Darlene Svensrude, moved here with her husband, Clayton, and I asked if they could help me find a place and they did.
Q: Tell me about your sons.
A: Kyle is 18 and he's currently in Grade 11. He just recently went to Fort McMurray to finish school there and be with my dad. Kyle felt he'd have a better shot of doing the heavy duty mechanics he wants to do at Father Mercredi School. I was joking with him because that's the same high school I went to. They have a good program there that can help him enhance his skills for what he wants to do. Brandon is 16 and he's in Grade 10 at Carpenter High School. He's an honour student and I'm so proud of him. He works really hard. My youngest is Jonny and he's 13 and goes to Jonas Samson Junior High School. He's doing well too.
Q: What's it been like raising your family in Meadow Lake?
A: When we first came here, I found it challenging because the parenting styles were quite different from Fort Saskatchewan. I kept raising my children as I saw fit and so on. I'm fortunate to have met some very nice people in this town. There's still not enough programs for young people, though. Other than that, it's been OK.
Q: What do you enjoy about fishing and camping?
A: I can't give away my spots, but I like the peacefulness and serenity of being outside. I love to hear the water from my paddle or the motor. I like to hear the birds and it's just nice to get outside, especially when you're so busy all the time with life in general. Just getting away to hear nothing is so nice. I also like eating fish and I've taught my sons how to properly scale and gut a fish.