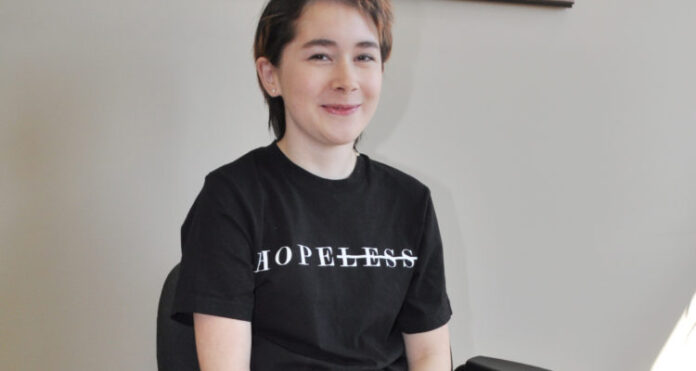 By Phil Ambroziak
Eight months after a fatal rollover near Dorintosh claimed the lives of two young men and injured three others, one of the survivors is speaking up about the importance of seatbelt safety.
"I want to send a message out there saying, if you don't wear a seatbelt, this could happen to you, or worse you could die," remarked 17-year-old Meadow Lake resident Keely Sutherland, who returned home in January following an extensive hospital stay in Saskatoon.
According to Sutherland's mother, Nicole, her daughter suffered brain damage as a result of being thrown from the vehicle when it rolled about 12 kilometres northwest of the city around 2:40 a.m. Aug. 27.
"She had quite a few broken bones and suffered a brain injury among other injuries," Nicole Sutherland explained. "The doctors said she was supposed to be a vegetable, but thankfully she is not. She's still dealing with a brain injury, however, which has resulted in a lack of thought filters and a lack of impulse control."
Keely Sutherland was in the back seat when the crash occurred. She was not wearing her seatbelt and was ejected from the vehicle. She's since admitted to also being under the influence of drugs and alcohol when the incident took place.
"I should have had my seatbelt on, but I didn't," she said. "Now, I lecture everyone on the importance of buckling up. Everyone should wear his or her seatbelt, even if they're just driving over to the bank to get some money because anything can happen."
Nicole Sutherland, meanwhile, said doctors still have no definite answers in terms of whether or not Keely will fully recover from her brain injury.
"They haven't been able to give me anything because the whole thing has already been an anomaly," she said. "She wasn't expected to recover seeing as she had sheered nerves, a brain stem injury, frontal lobe damage and left brain contusions."
Prior to the crash, Keely Sutherland had left school and was working full time. Once more fully recovered, she plans to resume classes, but it won't be in Meadow Lake.
"We're planning to move out of province as they don't offer the cognitive therapy Keely needs in Saskatchewan," Nicole Sutherland said. "We'll be moving to Nova Scotia. I know Keely still feels bad about what happened, but people make mistakes sometimes."
Speaking from his experience as a police officer, Meadow Lake RCMP Sgt. Ryan How has attended many fatal motor vehicle collisions where a seatbelt could have made a difference.
"The vast majority of people who didn't survive a collision or rollover were not buckled in," How said. "Surviving an ejection is rare and, even if someone survives, the injuries are usually catastrophic. As a police officer, it's frustrating and disheartening to respond to these events and still see people lose their lives because they weren't buckled in. Above all else, always make sure children are properly buckled in."