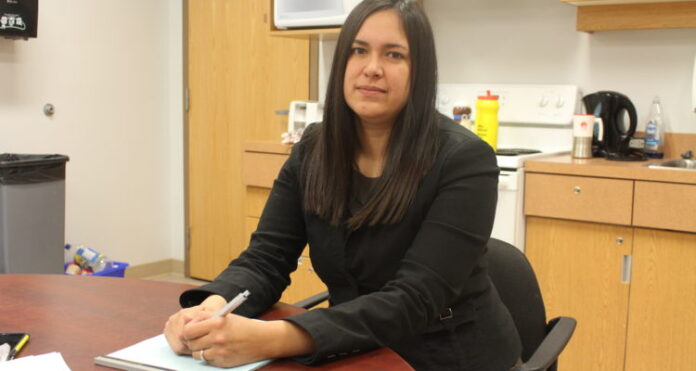 By Derek Cornet
Officials with Flying Dust First Nation have launched meetings to gain public input into a new matrimonial property law.
So far, two out of three sessions have occurred (March 30 and April 4) with the last one set for April 11. According to band lawyer Ruby Sinclair who is heading the legislation, each meeting includes an explanation of different sections of the law followed by an open period where the public can inform planners what direction to take.
"It's related to dealing with matrimonial property in the event of marital or common law relationship breakdown or the death of a member," she explained. "We're also going to be going over a survey to get some specific feedback on the law."
With nearly four years having passed since Flying Dust began following the First Nations Land Management regime, lands director Darwin Derocher said it's time to proceed because matrimonial property legislation is a requirement of that. As far as he knows, no other First Nation in Saskatchewan has such laws in place but there are 11 throughout Canada who do.
"There's a legislative gap when it comes to the dissolution of married or common law relationships and when there are homes in question or real property located on reserve," he commented. "There's the issue of children as well. Those all have to be considered."
Currently on the reserve, those wishing to own their own home have two options. They can either purchase a house themselves and build on band land or participate in a rent-to-own arrangement. Durocher said the new law will address issues like the division of assets.
"We hope to be having a ratification vote on the law about a year away from this date (March 30)," he stated. "One of the requirements is we have to have 25 per cent of eligible voters vote, and of those 25 per cent, 60 per cent need to be in favour of it."
Flying Dust is one of a growing number of First Nations in the province to operate under its own land code. The regime allows First Nations to opt out of land-related sections of the Indian Act and enact their own laws pertaining to land use. In 2014, the band approved its first piece of legislation known as the Flying Dust First Nation Use and Occupancy land law enacted to set out the steps and procedures to rent band-owned land.