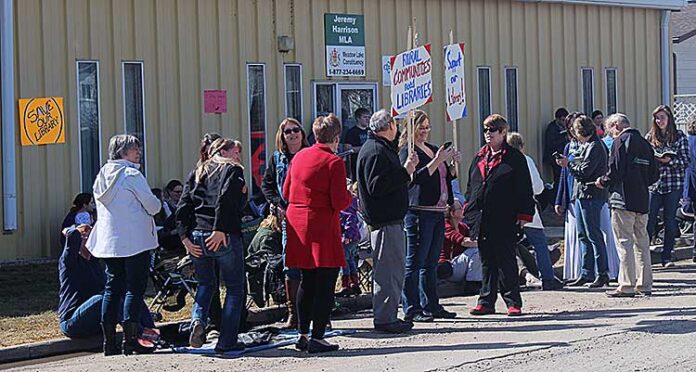 by Derek Cornet
With the interlibrary loan system coming to an end soon in Saskatchewan, 98-year-old Meadow Lake resident Flo Clark will need to find another hobby to pass the time.
Clark relies on the service to access audiobooks from other libraries throughout the province. Due to age-related macular degeneration – a disease which affects the eyes – Clark is legally blind and borrows the book as a means of entertainment. She listens to up to 1,000 books or more per year, but due to government cuts, this won't be able to continue.
"Five years ago, I had a friend here and she was using the library and found out about it and that's when I started getting them," Clark said. "I have several people who pick up books for me – family and friends."
Clark moved to Meadow Lake in 1942 to work as a nurse and went on to be elected as mayor in 1972. She was also heavily involved with the library board before retiring many years ago. In recent years, Clark has become one of the local library's biggest users having some weeks signed out between 15-20 books. She believes the province did minimal thinking when it decided to cut funds to libraries and wonders why there wasn't consultation with members.
"I would be willing to offset some of these costs with an annual membership fee, as well as pay for the transfer of books from one library to another," she stated.
Clark's son-in-law, Brian Ballantyne, is one of the people who orders and picks up books for her. He said Clark will now have to rely on a family members in Saskatoon to send books to her in the mail, but noted by the time they need to be returned, Clark will only have a couple days to listen to them.
"She's listened to all the books in Meadow Lake," Ballantyne remarked. "Flo has never used a computer, so she can't download off the Internet."
Meanwhile, on April 7, close to 140 people protested cuts to libraries outside the office of Sask Party MLA Jeremy Harrison's office. Meadow Lake Library board member Kaitlin Harman noted 600 people have also signed a legally-binding petition. She said, the cuts are upsetting and Clark's case highlights how the government's decision was short-minded.
"It's a real issue of accessibility," Harman commented. "Flo isn't able to read any longer – this is her sole form of entertainment. It's one of the few interactions she would have."