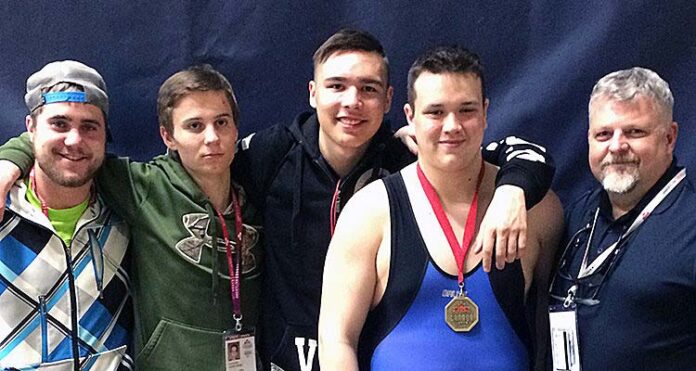 by Phil Ambroziak
WrestleMania weekend this year took place March 31 to April 2 in Orlando, FL, but for Carpenter High School athlete Jacob Ambroziak, the biggest wrestling event of his career took place one week later – April 7-9 – in Windsor, ON.
Ambroziak represented the Northern Pikes Wrestling Club at the 2017 Cadet/Juvenile Canadian National Championships, earning both a gold medal and the honour of being called a national champion. Earlier this season he also secured the Saskatchewan High Schools Athletic Association (SHSAA) provincial championship for his 130-kilogram weight class.
"Winning gold at nationals was such an amazing experience, and, considering I'm still in Grade 10, I still have a few more years of wrestling ahead of me," Ambroziak said. "I'm excited to see where the sport will take me next."
Ambroziak went 2-0 at the competition, pinning both Daniel Dordevic of the Pacific Rim Wrestling Club in British Columbia and Edmund Rehel of the Lexus Titans Wrestling Cub based in Ontario.
"What an exciting finish to the Northern Pikes season," noted coach Chris Brownrigg, who accompanied Ambroziak, as well as two other Pikes wrestlers, to the event. "Jacob's draw was small, but against the best Ontario and British Columbia sent. His first match was against his toughest challenger. His opponent attempted a throw to a pin, but Jacob countered this attack and the two fought intensely to win the position. Jacob was able to escape the hold and gain control earning two points. The referee stood them up from a stalemate and the battle continued. The strength of his opponent was obvious, but Jacob is a very smart wrestler and, when his chance appeared, he acted with speed and technique seldom seen in the heavyweight division."
Brownrigg said Ambroziak's explosive attack drove his opponent backward and the two crashed hard into the mat.
"Jacob's ability to control his foe resulted in him winning the match by pinfall," Brownrigg noted. "This is also how he finished off his challenger in the gold medal match. Jacob executed a high difficulty leg hook from the standing position taking the two giant athletes crashing down."
Brownrigg went on to say Ambroziak has blazed many new trails in local athletics.
"In March, Jacob became the first CHS wrestler to ever win an individual provincial high school championship and a banner will forever hang on the wall of the CHS gymnasium," he said. "Now, he is also Meadow Lake's first-ever national champion."
Ambroziak, meanwhile, expressed his gratitude to all those who helped him.
"It's important I recognize everyone who supported me during the 2016-2017 wrestling season," he said. "All of my sponsors, coaches Jason Guenther, Chris Brownrigg and AJ Calvert, my trainer Stuart Fontaine, my wrestling team, friends and especially my family. Without everyone's continued support, I would never have been able to go this far."
The other Pikes wrestlers to compete in Windsor were Tavin Bear in the 85-kilogram class and Cody Barden in the 63-kilogram event. Barden went 0-2 and Bear was 1-1 before losing his third match on points.