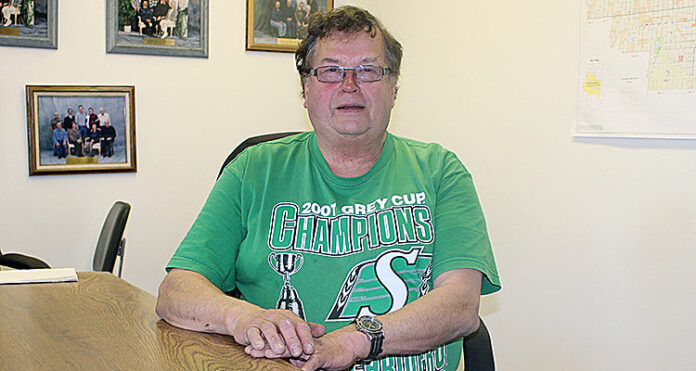 Blair Mysko is a new addition to the RM of Meadow Lake council after being elected as a councillor last year. Recently, Blair spoke with Northern Pride about his first six months in the position, upcoming projects in the RM and his family.
Q: Why did you decide to run for council?
A: Three different guys in Division V asked me to run and I thought about it for a few days and decided I would. I thought it would be interesting and I had no idea how busy the rural municipality is. I want to do a good job. I'm inexperienced, so I have made mistakes. I'm going to learn to listen and not to jump at things. I've done that a couple times so far and I got into some trouble. It's all a learning process.
Q: When will the new RM office be finished?
A: We're hoping it will be done by December. That's one of the things they were in the middle of when I joined council. The current office is quite jammed up and even the room where we hold our meetings is standing room only if a couple people show up. Currently, the company we hired to build it has a couple of skid units waiting for breakup. The site has quite a bit of water on it and they won't be able to start until the ground dries and the frost is out. The building is about 5,200-square feet.
Q: What are the benefits of a new space?
A: Aside from it being less crowded, we have files everywhere in the current building and there's no fire-proof storage. There's no protection for anything. I was at another RM office in December and they had a fire-proof storage and they keep everything in it. Another thing the new building will have is a generator, so we don't have to shut down when the power is out. The office is busy and it's nonstop people going in there.
Q: What did you think of the Saskatchewan Association of Rural Municipalities convention?
A: It was my first time there and it was quite a learning experience. I had no idea about all the things that go on. There were a lot of vendors who made a presentation about the equipment and services they offer to RMs. I think it's a good thing. I don't know if I'd go to it every year, but there was a lot to learn and see. It was busy.
Q: Where do you live?
A: I live in Division IV, but I own some land in Division V too. I started farming in the area in 1979. I used to live closer to Morin Creek, but I moved about a quarter-mile away from Highway 4 and I've been there for 23 years. In certain weather, I can hear all the traffic but it doesn't bother us. Sometimes you hear nobody, then other times, it sounds like someone is driving on the road beside us.
Q: Are you retired?
A: I quit farming in 2006 and I resigned from the Meadow Lake Pulp Mill in 2010. I went back to work three times since then and I've worked during half of the last seven years. I was working in Fort McMurray as an electrician for 31 months, but I resigned in November 2015. I was tired of spending winters working outside because a lot of our work is done outdoors. We had trucks and didn't have to freeze, but it was still cold work. I would fly out of Meadow Lake on Wednesday morning and then Wednesday afternoon I'd fly back. We had two steam-assisted gravity drainage plants – one along Highway 63 and the other was about eight kilometres east of Highway 63. What they do is inject stream into the Earth to liquify the oil, then pump it out through the pipelines.
Q: How many people work on a site like that?
A: On the two plants, there were probably about 130 employees to operate it 24 hours per day. There's a lot of people from Meadow Lake working in the Fort McMurray area. There is also a lot of people from Meadow Lake working in diamond mining. They used to work for De Beers at Snap Lake and they've all transferred to the new mine at Gahcho Kué. A lot of trades people and operators work outside of Meadow Lake.
Q: Tell me about the work you do for the Alliance Church.
A: I volunteer to do repair work there. I volunteer because I've been going to the Alliance Church for 25-30 years. I also helped out when they built the new church. I was a maintenance worker with the Meadow Lake School Division for almost 12 years, but left there in 1991 and went to the pulp mill. I've done maintenance most of my life. I also help whenever they need work done at the Christian Academy. My son, Dwayne, is one of the heads of it, so we changed some windows last summer and put a new canopy on. He designed the roof and we installed it. Dwayne and my oldest daughter, Joanna LaBrash, attended the Christian Academy and he has all his kids in it because he believes in it. There's always a lot to do. Last week, I brought my loader tractor and spent fours hours trying to clean up the yard at the Alliance Church because it was just a mud hole. It helped to dry it up. We've got to grade and slope that side again.
Q: What can RM residents expect in the next few months?
A: This winter has been really bad because of all the moisture we got and that has caused a lot of problems, especially with spring breakup when the roads are really soft. Because of all the moisture, there were more frozen culverts than normal this spring. They were running two crews thawing culverts for more than a week. That's been a major problem. We still have the odd road flooding. There will be gravelling, brushing, mulching and, in some places, we'll be doing some logging because there are trees near the roads that are too big. If the road is too treed in, it won't dry. With the heavy snow we had, a lot of trees fell across the road so crews had to go out and cut them. Even some of the local people have gone out and sawed their way through some roads in the mornings. Ever year, the RM also builds some roads but I don't know what the plans are this year. We can build a couple miles of road if we want to as long as we get good weather.
Q: Where were you born?
A: I was born and raised in Big River. I left in 1967 for training and went to school in Moose Jaw. In 1969, I worked in the Saskatoon area in construction and, by then, I had started a trade as a electrician. I also ended up moving to Alberta in 1969 and, after that, I was everywhere. My wife, Barb, and I got married in 1970 in Innisfail. Then we moved to Calgary, then Big River before I moved to the Northwest Territories for two years. I also worked in Medicine Hat and Lloydminster before we moved to Meadow Lake in 1979.
Q: When did you become an electrician?
A: In 1973. When I got out of school, I had to make a decision on what to do and that's what I did. In the middle of the trade, I had a chance to switch over to mechanics and it was a tough decision. I had to think about it because I do like mechanical work. I bought trailers and rebuilt them and resold them and I've rebuilt a couple tractors. Right now, I have a one-ton truck I bought in December. It's a 1976 and I drove it to town once now. It still needs some work. I have to do some repainting.
Q: Tell me about your family.
A: Barb and I have four kids. Joanne is the oldest and she lives in Red Deer. Dwayne lives in Meadow Lake and works at the pulp mill. Jeannette moved back to Meadow Lake from Red Deer and works for Northern Pride. Victoria is married to Craig Lajeunesse. She works at Innovation Credit Union. She worked at Vision North Eye Care for close to 10 years and switched to the credit union two years ago.