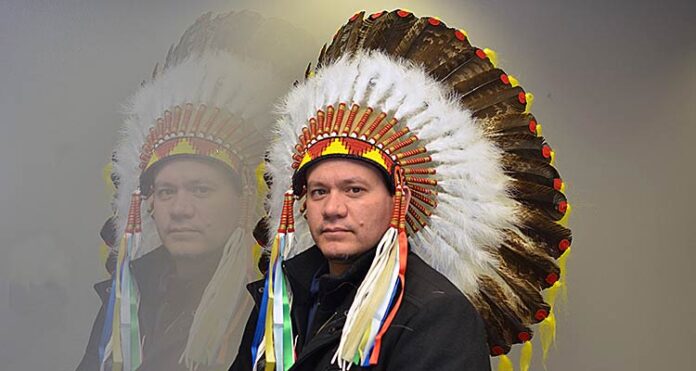 by Phil Ambroziak
It's official. Yesterday (May 17), the Federation of Sovereign Indigenous Nations (FSIN) announced Flying Dust First Nation will host the 2019 First Nations Summer Games. The last time the band hosted a provincial event of this nature was 2003.
"We're very excited to showcase our community and for everyone to see what we have to offer," remarked Flying Dust Chief Jeremy Norman. "We were actually eligible to host again since 2010, but did not put in a bid until just prior to the deadline for 2019."
Along with Flying Dust, the other frontrunner to host the Games was Lac La Ronge Indian Band. Norman believes his community was ultimately selected because of the fact it hosted the Games once before.
"They knew how ready we are," he said. "We have a lot of the same staff on board who were here in 2003 and we know what we're getting into. We've also come to realize what we can improve upon from last time, what we struggled with and how we can make it better. And, this time, we have a full two years to prepare whereas last time we only had 11 months."
Close to 3,500 First Nations athletes from throughout Saskatchewan are expected to be on hand for the Games, which will feature a variety of sports from archery to athletics and more.
"Another strong part of our proposal was the support we have from the City of Meadow Lake," Norman continued. "The mayor (Gary Vidal), as well as several business people were at the table and I believe that served as a real eye-opener (for FSIN) to see the amount of support we have from our neighbouring community."
In addition to facilities already in place on the reserve, Flying Dust plans to utilize Meadow Lake facilities that were developed for the Saskatchewan Summer Games hosted by the city in 2012.
"They were really impressed with the rubberized track," Norman said. "Meanwhile, our facilities are still operational."
The 2019 Games are also expected to leave further legacy projects in place for Flying Dust when all is said and done.
"A lot of people really made this happen," he stated. "We had a lot of people in place on our committee just in order to secure the bid. It's going to mean a lot for our community and for our young athletes."