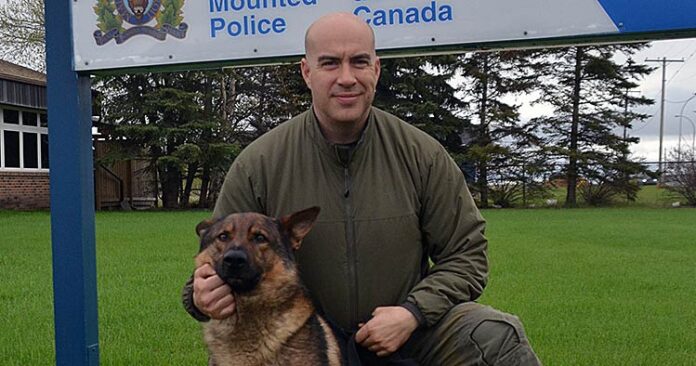 by Phil Ambroziak
Every dog has his day, and apparently so does every dog cop.
Cpl. Shawn Irwin, who has served the northwest district as the RCMP's police dog services handler since 2010, will depart the Meadow Lake area next month for a new posting in Swift Current. His canine companion, Dane, will also be leaving with him.
"I will definitely miss this community when I'm gone," Irwin said. "I've been involved in senior baseball (as a member of the MillTown White Sox), with minor baseball and with minor hockey. The biggest thing I'm going to miss, however, are the people. I've made a lot of friends, my kids have grown up here – it's been a great place to live."
Irwin's wife, Jamie, is an RN at the Meadow Lake Primary Health Care Centre, their son, Dane (who came along before the dog) is in Grade 1 and they have a four-year-old daughter named Sloan.
"I didn't name the dog after my son – I, in fact, didn't name the dog, – it was just coincidental they have the same name," Irwin said.
While technically not a member of the Meadow Lake detachment, Irwin and Dane have assisted local officers on a variety of investigations throughout the last several years.
"I'm a support service to local members," Irwin explained. "My job is to support the frontline members who require the assistance of the dog, and to provide backup for any high-end calls. "
Irwin went on to say there are many things his dog can help with such as sniffing out evidence or drugs, or helping locate both suspects who are on the lam, as well as missing persons.
"The dog's nose can help lead us to certain things much quicker, which saves both time and money," he added
According to Meadow Lake RCMP Sgt. Ryan How, it's been a luxury to have Irwin and Dane's services at the ready, especially over the last two years when the detachment lost some experienced investigators and supervisors.
"Cpl. Irwin really helped us out by guiding junior members through different situations when detachment NCOs weren't available or tied up on other complaints," How noted. "He's a very experienced and highly trained officer, and Meadow Lake was lucky to have him for so long. Most people don't realize Cpl. Irwin isn't posted specifically to Meadow Lake, he covers the entire northwest corner of the province so he's constantly travelling and has worked some very long days in one of the busiest areas in Canada."
Irwin's replacement – Cpl. Doug Cushion, who will have a canine companion of his own – is scheduled to arrive May 20. As for Irwin, he said he's excited to embark on the latest chapter of his career.
"I'm looking forward to the new challenges it will bring," he said.