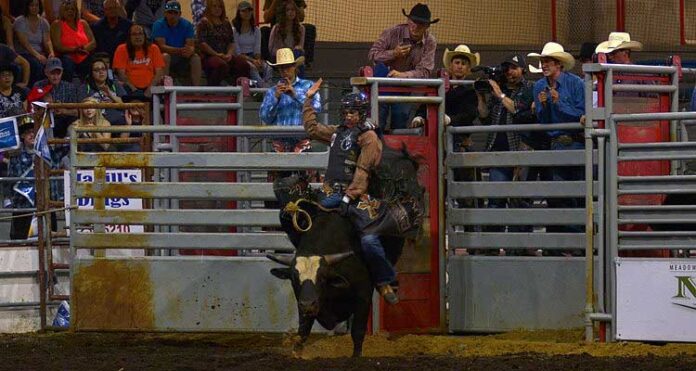 by Phil Ambroziak
Cody Coverchuk knows how to send a crowd home happy.
The Meadow Lake bull rider returned home June 8 for the annual Bull Riders Canada (BRC) Mayhem in Meadow event where he not only qualified for the championship round, but also won the show title in front of an enthusiastic and appreciative audience.
Although not ranked in the BRC standings heading into the bull-a-rama, a shortage of entries this year provided Coverchuk with the opportunity to ride twice in the long round. He was bucked off his first bull, aptly named Trippin' Out, but was able to hang on for the full eight seconds during his second ride – this time on a bull named Solid 3 – to mark 83.5 points and a spot in the top six.
In the finals, Coverchuk was the only rider who was able to make the whistle – in spite of every effort by the bull Stitches in Time to make sure that did not happen – scoring a whopping 87 points and the show title.
BRC's Mayhem in Meadow took place at the Meadow Lake and District Arena as part of the annual Stampede Week. The action continues tonight and tomorrow (Friday and Saturday evenings) with the annual Lakeland Rodeo Association (LRA) sanctioned rodeo, which will include all the regular events as well as more bull riding.