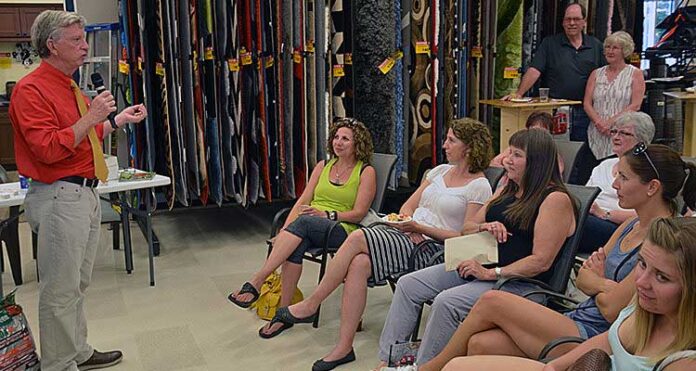 by Phil Ambroziak
Gardens could soon grow a lot greener in Meadow Lake and area.
Local horticulture enthusiasts experienced a unique opportunity recently when they met and spoke with Mark Cullen, a renowned Canadian gardening expert, when he visited Home Hardware Building Centre in Meadow Lake June 6.
"It was such a successful evening and so much fun," Cullen said the next day. "I met so many wonderful people and the one thing that was clear to me is the people of Meadow Lake are proud of their community, and they have every right to be."
Cullen was in town to officially proclaim the garden centre at Home Hardware as Mark Cullen approved. As the national gardening expert for Home Hardware Stores Ltd., Cullen said there are only 32 stores that hold this distinction out of a potential 1,100 nationwide.
"There are things you need to do in order for your garden centre to become Mark Cullen approved," explained Wayne Marsh of Home Hardware Building Centre. "One of the main things is training. Our garden centre staff attended session upon session of training to learn everything they can about horticulture. Another big part of it is having a quality selection of live plants. We're making sure we're not just getting our plants from just anywhere."
The store also hosted a garden party during Cullen's visit. This allowed members of the public to meet him and to hear firsthand some of the important steps it takes to make their garden grow.
"I travel the country from Newfoundland to B.C. and 90 per cent of the time I get asked the same questions no matter where I am," Cullen said. "They don't vary too much, which was surprising for me during this visit because Meadow Lake and this part of Saskatchewan have such a uniqueness. I'm talking about things like clay-based soil and severe winters, but no one asked anything out of the ordinary or unexpected."
Cullen added, this goes to show Canadian gardeners, no matter where they're from, have a lot in common.
"There's a passion for natural beauty in Meadow Lake shared by Canadians in every corner of the country," he said.
Cullen went on to praise the commitment shown by Home Hardware and the Marsh family to the Meadow Lake community.
"I'm very proud of them and their staff for everything they do there, and that's a big reason why I put my name on their garden centre," he said.
Those who attended the garden party were required to pay a $5 registration fee, the funds from which were donated to charity. By the end of the night, Home Hardware collected $1,055 for the Meadow Lake Hospital Foundation. Snacks were also provided during the evening courtesy of Home Hardware employees.
"Our garden centre officially became Mark Cullen approved this spring, but the entire process really started before we even had a garden centre," Marsh said. "Training even started back in 2013 before we opened our new store. And, that training is ongoing."
Among the many gardening enthusiasts on hand Tuesday evening was Pat Morley, coordinator of the Willow Creek Community Garden.
"He (Cullen) was very informative and very nice to listen to," Morley said. "He was very open when it came to the question and answer session and provided us all with a lot of helpful hints. It was also great to meet him because he's sort of a Canadian celebrity. It was very nice of him to take the time to come here."