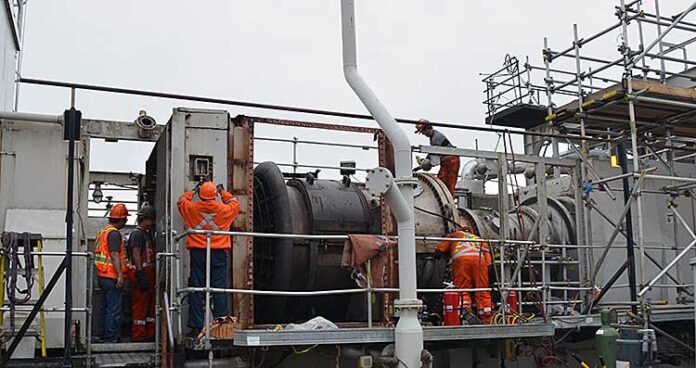 by Phil Ambroziak
Meadow Lake has the power.
As of last week, workers have been onsite at the SaskPower station south of the city to perform a series of upgrades. The work is expected to continue until mid-August.
"We're doing significant plant maintenance at Meadow Lake Power Station Unit One that will help extend the unit's life to the year 2030," explained SaskPower spokesperson Laura McKnight. "It's a big capital project that includes design, supply, fabrication and installation. Some of the work being completed includes: replacement of the combustion section with brand new components; replacing the exhaust gas casing, exhaust diffuser, and exhaust plenum with brand new parts; replacing the generator rotor and bearings and upgrading to a turbine control and protection system."
Other work includes the installation of an online transformer monitoring system and performing general refurbishments and inspections. Prior to the current project, the facility's life span was to expire in 2017, meaning the work will expand the life of the local power plant by 13 years.
"We have quite a few similar projects ongoing throughout the province," McKnight added. "This plant in particular is used to generate the power used in Meadow Lake and area. We're constantly investing in different capital projects such as this one."
The Meadow Lake power station was commissioned in 1984 and uses natural gas as its fuel source. It has a net capacity of 44 megawatts. In 2016, natural gas made up 40 per cent of the electricity produced by SaskPower, while 34 per cent came from coal, 30 per cent from hydro, five per cent from wind and one per cent from other sources.
"Because of the work being done at the Meadow Lake plant there will be some planned power outages," McKnight continued. "There are also transmission line workers in the area, but they will coordinate their work with that of the power station workers to ensure more outages than necessary are not happening."
Planned power outages are announced via the SaskPower website and social media
"We continue to invest in our infrastructure to provide reliable power to our customers," McKnight noted. "In the last four years, SaskPower has invested $4 billion in infrastructure and plans are in place to invest another $3 billion in the next three years."
According to Meadow Lake mayor Gary Vidal, the project will play an important role in bettering the community as a whole.
"If what they're doing will serve our people better, that's a good thing," Vidal said. "We're always happy when organizations invest money to improve our community."
The project is also expected to benefit the local economy. According to Nathan Kabrud, the project's overhaul manager, more than 40 workers will be onsite throughout the summer meaning they'll be looking to stay at hotels in Meadow Lake, as well as dine at local restaurants.
"We've already had trouble getting hotels because everything is full," he said.