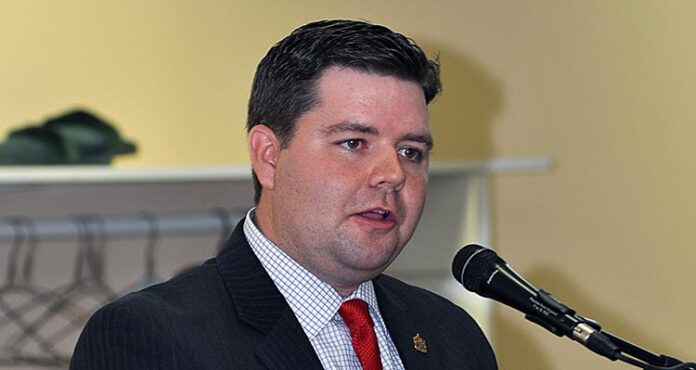 by Phil Ambroziak
Saskatchewan Premier Jeremy Harrison.
As surreal as it may sound, the long-time Meadow Lake MLA said he's seriously considering a bid for the Saskatchewan Party leadership following the recent news of Premier Brad Wall's impending retirement.
"It's a very difficult and challenging decision to have to make," Harrison remarked. "There definitely is going to be some discussion taking place with my family, as I'm sure other members of the caucus and of Cabinet will be doing as well. It's a decision no one should take lightly, as it's a job that takes a massive commitment."
Having been a career politician both federally and provincially for the last 13-plus years, Harrison said he's accustomed to a senior role in government and reiterated the fact he is eyeing the leadership.
"I'm also flattered by the significant amount of encouragement I've received from constituents, but, for me, family is still most important and the impact this role would have on my family is something we will also be considering," he added. "Obviously, the job of premier would involve much more time and responsibility than my current role."
After serving as premier for nearly 10 years, Wall announced Thursday (Aug. 10) he will be retiring from that position and elected politics when his party elects a new leader. The Saskatchewan Party provincial council will meet within a month to start outlining the plan for a leadership race.
"Together with (my wife) Tami, I have decided now is the time for renewal – for my party, for the government, for the province," Wall noted in a video statement. "It's time for me to retire from politics."
According to Harrison, Wall's decision came as a surprise to him and his fellow MLAs.
"We had been away for a caucus retreat for a couple of days," he stated. "At the conclusion of the retreat, however, the premier told the caucus he would be retiring. There was a very emotional reaction, but we're all very thankful for the premier, for his service and for everything he's done. I feel happy for the premier. He's in a very good place and I'm very comfortable with the decision he's made."
One person who claims not to have been surprised by the news is Athabasca NDP MLA Buckley Belanger.
"Obviously we expected this," Belanger said. "Once the people of Saskatchewan figured out where debt levels are heading, we knew it would only be a matter of time before he exited and I suggest other MLAs with the Sask Party will soon exit as well."
In spite of Wall's departure, Belanger also said things will remain the same for the time being.
"Nothing changes, as the Saskatchewan Party's scandal and waste will continue to affect us for a long time," he said. "Under Mr. Wall's leadership, Saskatchewan saw record revenue, but that revenue was squandered, When he assumed office, there was a lot of money in the bank and our provincial debt was only $10-11 billion. By the time we're done the current term, we will owe $23 billion minimum. How do we survive that? Now we face record debt and we see Crown corporations being shopped around. How is this bettering our future?"
Belanger also shared his desire for Wall not to step down when he did.
"Personally, I was hoping he would have stuck around," he said. "This way, the people of Saskatchewan would have had an opportunity to send him a message by not returning him to office in the next election. Instead, he decided to leave arbitrarily. It's a shame, but we anticipated Mr. Wall would head out of Dodge and, guess what? He's heading out of Dodge."