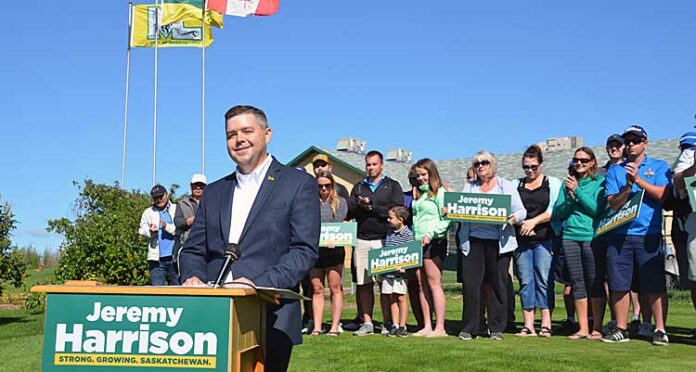 by Phil Ambroziak
It's official.
This morning (Aug. 19), Meadow Lake MLA Jeremy Harrison announced he will be seeking the Saskatchewan Party leadership, a decision he came to with his family in the week that followed the news of Premier Brad Wall's plans to retire.
Harrison made his leadership bid official prior to the start of the annual Jeremy Harrison Golf Tournament, held at the Meadow Lake Golf Club.
"Everyone has a centre of their universe and, for me, it's right here in Meadow Lake," Harrison said. "It's a sense of community, a sense of belonging that makes Meadow Lake home. I'm so blessed my parents chose to raise my siblings and I here and, in turn, (my wife) Alaina and I feel blessed to raise (our children) Mac and Finn in this community, our home. It's here where I pay my taxes, here where I have the honour to work and here I hope to retire. And, for those reasons I wanted to come here to share this news with you."
Before doing so, however, Harrison took a few moments to share his thoughts on Wall's retirement and to highlight the various ways in which Saskatchewan has grown and flourished under the premier's leadership.
"More than any particular policy, it was the change in attitude and outlook," he said. "Brad made us believe in ourselves again. We've gone from the province that was at the bottom of the list for almost every economic measure to the province with the second highest job creation record in all of Canada. We've gone from a province that exported its young people by the tens of thousands to one that offers a bright future to our young people – to all people. We can't go back to the 'can't do' days. We have to keep going. We need a strong Saskatchewan, we need a growing Saskatchewan and that is why today, here at home, I'm proud to announce my candidacy for the leadership of our party and the premiership of Saskatchewan."
The news was met by a round of applause by those on hand to show their support. Harrison, meanwhile, went on to talk about the future.
"The future is always what elections are about," he noted. "Our past accomplishments, no matter how great, will not determine the results of the next election. That will be determined by our plan going forward. Over the coming weeks I will be sharing my plan. A plan for strength and growth for Saskatchewan."
Harrison did say, however, with every fiber of his being he will fight a federally imposed carbon tax and maintain the unity of his party.
"History has shown, when we're united we win," he said.
He also promised never to forget rural communities.
"We will encounter strong opposition… but we won't let them win," he said. "Together, with your support, we will continue moving forward."
For the full story, see this Thursday's (Aug. 24) edition of Northern Pride.