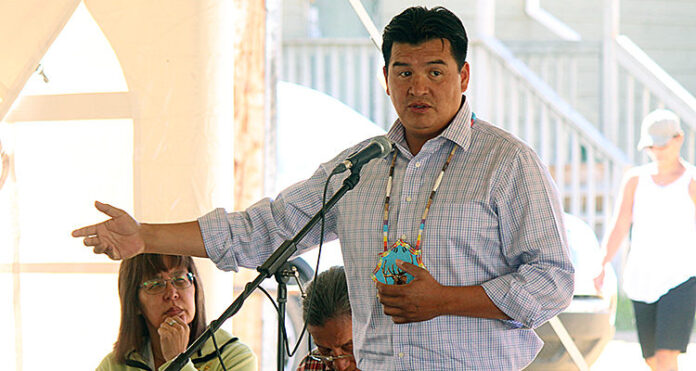 by Derek Cornet
A Treaty 10 Gathering hosted by English River First Nation (ERFN) had participants engaged in conversation about the spirit and intent of the agreement.
In all, more than 100 people attended the event held Aug. 1 and 2 which included discussions about the making of Treaty 10, what a treaty relationship means and how the treaty has been implemented. Attendees also talked about rights to health, education, hunting, fishing, trapping and gathering, as well as what they'd like to see implemented between First Nations and the federal government in the future.
"All of us chiefs and councils are administrators of the treaty," said ERFN chief Lawrence McIntyre. "If you really want to understand what the treaty means, you have to go back to our ancestors when they sat getting together those lands and resources that were critical in Treaty 10. Today, there's an override in a lot of those."
Federation of Sovereign Indigenous Nations chief Bobby Cameron, as well as Desnethé–Missinippi–Churchill River MP Georgina Jolibois, attended the gathering as special guests Aug. 2 and both talked about treaties and the issues affecting them. Cameron spoke of the 1930 Natural Resources Transfer Act and how Indigenous people need to challenge its validity in court.
"The government of the day tricked our leaders into signing that piece of paper," he said. "They didn't interpret it and they didn't fully inform our leaders about what the NRTA was really about. Had our people in the day been told what NRTA encompasses, they would have never signed it. They failed in their duty to consult and that will be our position."
Cameron also encouraged attendees to post signs on traditional territory notifying people they're on treaty land. He explained it's important for others to know the lands are occupied to keep unwanted intrusions in the area.
"What has to happen, is our young men and women have to go out miles and miles into our lands and waters and put these signs up," Cameron added. "When industry and province comes knocking or exploring, they're going to stop because they'll see the signs."
Finally, Jolibois talked about what it means to be a treaty woman representing the riding in the House of Commons. She also mentioned her private member's bill which seeks to make National Indigenous Peoples Day (June 21) a public holiday.