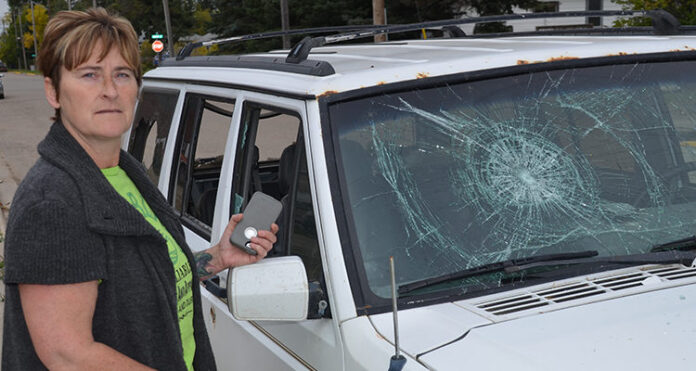 By Phil Ambroziak
"I'll take what's inside vehicle number one!"
It may sound like a poor twist on a classic game show line, but there's no fun and games involved with the series of vehicle break-ins that occurred in Meadow Lake during the early hours of Monday, Sept. 25.
"In total, there were seven vehicles in the city that had windows smashed out and some vehicles had items stolen from inside," explained Meadow Lake RCMP S/Sgt. Tim Sartison.
All of the incidents were reported between 5 and 7 a.m., while Sartison noted, at 6:45 a.m., an alarm also went off at a local residence. Among those whose vehicle had its windows smashed is 1st Street West resident Marj Matchee. In her case, however, it was a double whammy, as both her Jeep and her truck were targeted.
"I got up to drive my hubby to work at 6:30 a.m. and saw the back window to my Jeep was gone," Matchee said. "I thought 'oh no', and then – as I got closer – I saw the front window was smashed, as were the passenger windows on the Jeep and on my truck."
Matchee leaves her vehicles parked across the street from her house regularly, but has never been victimized in such a way before.
"I have to replace the windows on both vehicles, so I'm looking at a $700 deductible for each," she stated.
She also said the amount of damage caused is even more extensive when compared to what the thieves made off with.
"I don't leave much in there, but it looks as though whoever did this was after loose change," Matchee said. "They just smashed through everything, but that's all they took. I have an expensive Stanley tape measure sitting right there, as well as some other tools but those weren't touched."
According to Meadow Lake RCMP Sgt. Ryan How, the local detachment responded to an increased number of property offences in the past week.
"Members have been doing foot patrols at night to try and decrease the 'car shopping', but are very frustrated to see unlocked vehicles with valuables inside," How noted. "iPhones, iPads, hockey equipment, and computers are all examples of what officers see in open vehicles while patrolling. With valuable property like this open and available to thieves, there is no deterrence."
As a rule, Matchee said she always locks her vehicles and tries not to leave too much of value inside.
"I did all of the above and this still happened," she said.
Matchee went on to say the best solution to prevent crimes like this from continuing is for the city to install street cameras.
"That's the only way anything can be proven because the police can't be everywhere at all times," she added. "I've got some hunting cameras I'm going to put up, but I've talked to a lot of people since this happened and the general tone I'm getting is this is going to end up being some vigilante stuff if the cops don't do something soon. I'm so furious I've even posted a $500 reward for anyone who has information about whoever is responsible."
All matters are still under investigation and no arrests have been made at this time.