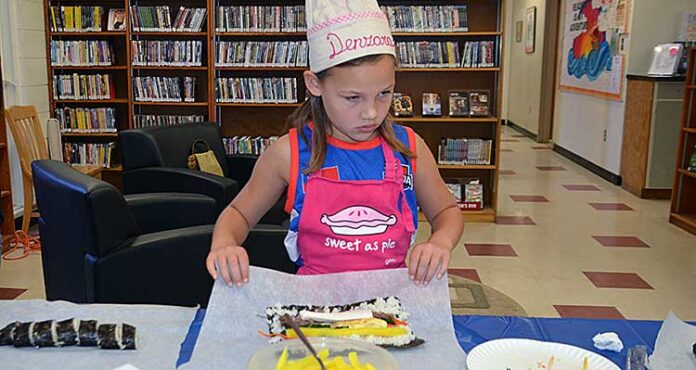 by Phil Ambroziak
When it comes to cultural diversity, there's more to Meadow Lake than meets the eye.
Sept. 28-30 marked the annual Culture Days celebration hosted by the Meadow Lake Library, and – according to organizers – this year's event proved to be even bigger and better than in past years.
"Culture Days has been going for years and years," explained Tawn Marshall, the library's programming clerk. "It started in Quebec and has since spread across Canada. It's always the last week of September and, here at the library, we just kind of tapped into people around the community, what their interests are, what their skills are and put together as diverse of a program as possible."
Marshall also said this year's event benefited from increased funding thanks to a special Culture Days grant.
"I was lucky enough to partner with the city and with the museum in order to receive funding made available when three or more community organizations work together," she added. "This allowed us to bring in different people to lead a wide variety of classes – we're pretty happy to get a decent spread."
This year's Culture Days events included a film about Inuit seal hunting, live music featuring Lucas Welsh, a digital photography session with Ian Twidale, Korean kimbap rolling with Tania Pak, a dreamcatcher workshop and more.
"This year, we hope to accommodate more people, allow them to experience what their community has to offer and get to meet people," Marshall continued. "By offering these classes for free we can reach out and attract more interest, and also make it available for more people."
Pak, whose kimbap rolling session Saturday afternoon proved highly popular, agreed.
"Today I am here by invitation to demonstrate one of Korea's traditional dishes, kimbap (a sort of sushi roll), which consists of rice, vegetables and a special rolling technique," Pak said. "It's traditional in terms of celebratory days and lunch boxes too because it's pretty nutritious."
A resident of Meadow Lake, Pak's family runs the Oasis Car Wash. She said, learning about different cultures is a tremendous way to bring people closer together.
"When exposed to different culture, there's a better understanding, better communication," she noted. "Perhaps it will also lead to greater understanding and greater friendships."
Marshall echoed this, adding Meadow Lake is a very rich community in terms of diversity, skills and interests.
"By having something such as Culture Days, we really give people an opportunity to get to know their community better," she said. "One of our activities today is a traditional wool working demonstration at the museum and, while many people don't necessarily think of something as simple as knitting as being associated with culture, it really is. This is also a chance for people to recognize the value of the culture and skills they already have."