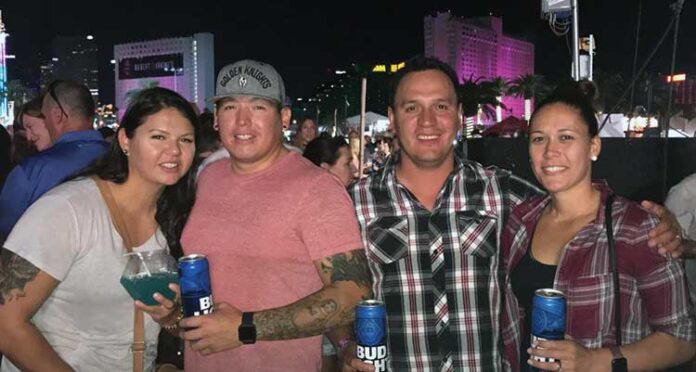 by Phil Ambroziak
Oct. 1 was an unlucky night to be in Las Vegas. Fortunately, Ile-a-la Crosse's Sheylee Campbell (nee Belanger), her husband, Trent, and other northern visitors to Sin City, managed to escape physically unscathed when a gunman opened fire on the crowd of thousands on hand for an outdoor music festival, killing close to 60 people and wounding more than 500 others in what's been described as the deadliest mass shooting by a lone gunman in U.S. history.
"Everything is still so surreal," Campbell remarked when contacted Monday afternoon at the McCarran International Airport in Las Vegas. "We came to Las Vegas for the festival and we were on the grounds when the shooting happened."
The three-day event, known as the Route 91 Harvest country music festival, was in its final night Sunday when 64-year-old Stephen Craig Paddock opened fire across Las Vegas Boulevard from the 32nd floor of the Mandalay Bay Resort and Casino during the closing performance by singer Jason Aldean. Paddock was later found dead in his hotel room of a self-inflicted gunshot wound.
"We were kind of in the middle, facing the stage before we decided to go stand closer to where we'd stood the night before, which was more to the left of the stage," Campbell explained. "That's when everything started happening. At first, I thought it was firecrackers – it would start up, then stop, then go, then stop again. After a few times, we realized something serious was going on."
Once they were aware someone was firing a gun into the crowd, Campbell and her friends dropped to their knees before seeking cover behind a nearby food booth.
"We could see people running, trying to get away but we stayed put and kept out of sight," she said. "At this point, we didn't know where the shots were coming from, we didn't know where to go so we just stayed there for what seemed like forever. We could see people being carried out… people lying on the ground. It was very hectic."
Finally, Campbell and the others realized they had to get as far away from the site of the concert as possible and decided to follow the crowd as it made its exit.
"We were staying at the MGM Grand, but – when we finally got there – they weren't letting anybody in or out of the hotel," she continued. "My sister (Chellsea Belanger) decided not to attend the concert that night, but to instead stay out on the strip. So, we just kept walking and running in the opposite direction of where the shooting occurred."
The group was finally able to regroup at the Paris Hotel and contact family and friends in Saskatchewan who had likely heard news of the incident by this time.
"I have three little ones at home and had to make sure everyone knew we were OK," Campbell added.
This is also when they started to learn more about what exactly had happened. Prior to this, Campbell said there were conflicting stories about there being several shooters up and down the Las Vegas Strip.
"The whole thing has just been very traumatic," she said. "I can't even find the proper words to describe it."
The group returned to Saskatchewan early this week from what Campbell said was her first and last trip to Las Vegas.
"It was my first time there, but I'm never going back," she said. "Before all this happened, we talked about the good time we were having and about making it an annual thing, but not now."
Among those who accompanied the Campbells to Vegas was Larissa Burnouf. At the time the group landed in Edmonton, the shooting was still fresh in her mind.
"The shock is wearing off and it's hitting us all really hard – we just want to make it home to our kids," she noted. "I just need time to recover from this madness."