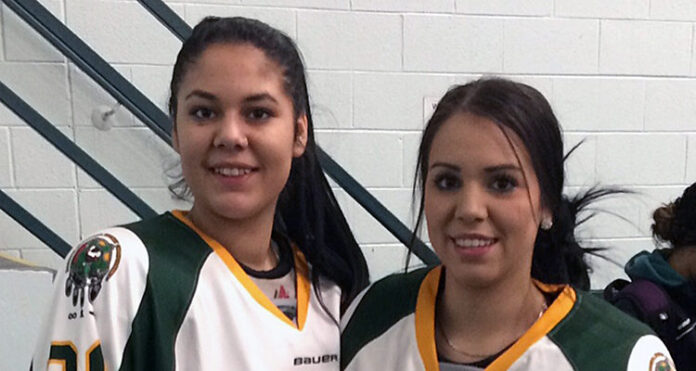 by Phil Ambroziak
Earlier this week, 19-year-old Delaney Ross and her 18-year-old sister, Hailey, departed for Katowice, Poland where they will spend the next year playing professionally for the GKS Katowice of the Polska Hokej Liga – the highest level of ice hockey in Poland.
"I don't know too much about it yet – I just know, after they've been there for a year, they are eligible for dual citizenship and will be able to play on more international teams," explained the girls' father, Marty Ross.
Ross, who was contacted Tuesday afternoon, had just dropped his younger daughter off at the airport in Saskatoon that morning. She planned to meet her sister in Toronto and the two were off to Poland from there.
"(Former Buffalo Sabres coach) Ted Nolan has taken over hockey operations in Poland and watched the girls play at the National Aboriginal Hockey Championships a couple years back," Ross continued. "When he took over in Poland, he got a hold of my number and gave us a call."
Ross said the offer was presented in June and, although Hailey Ross was eager to accept right away, Delaney Ross was a little hesitant because she was concerned it would interfere with her post-secondary studies. Last year, Delaney Ross attended Carleton University in Ottawa where she also played hockey as a member of the Carleton Ravens. Hailey Ross, meanwhile, played AAA hockey last season as a member of the Lloydminster PWM Steelers.
The final decision was finally agreed upon about three weeks ago.
"This one was a lot tougher than the rest," Ross added about the fact his children will be moving to a foreign country to play hockey. "Ottawa wasn't too bad because I always knew, if I wanted to, I could get in my car and drive there in a couple of days."
He did say, however, there's a chance the girls could either come home for Christmas or he could visit them during the holidays.
"We're definitely planning for that now," he said. "It's going to be very costly, though, so we'll have to see what the budget says."
In the meantime, Ross hopes to catch as many games as possible via the Internet.
"I sent an email to a lady over there who said, yes, that's a possibility, but she didn't speak English very well, and added there could be some ifs and buts involved," he said. "Hopefully I'll know more once my daughters arrive there."
Ross' third child, Roddy, meanwhile plans to tryout for the Midget AAA Tisdale Trojans this season.