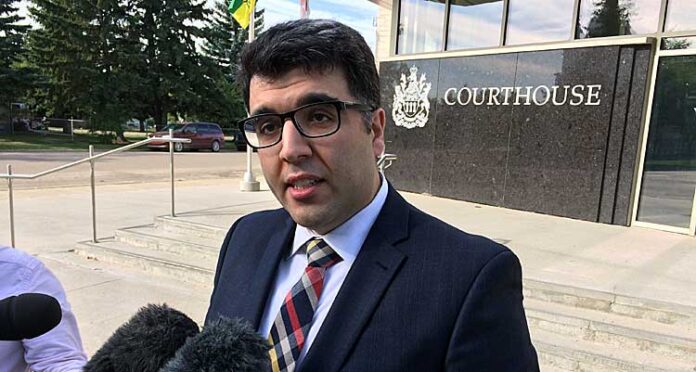 by Phil Ambroziak
The waiting game continues.
Closing arguments to determine whether the La Loche shooter should be sentenced as an adult were scheduled to continue Sept. 1 in Meadow Lake. The matter was adjourned once again, however, when it was announced Crown prosecutor Lloyd Stang had been appointed to the bench a day earlier.
Fellow Crown prosecutor Pouria Tabrizi-Reardigan informed the court of Stang's promotion at the outset of Friday's proceedings.
"As a result, Mr. Stang can no longer participate in this matter," Tabrizi-Reardigan said.
The Crown, however, would still like to cross-examine two defence witnesses – doctors who argued the shooter exhibits signs of fetal alcohol spectrum disorder. This did not happen as planned.
"The news of Mr. Stang has left us with insufficient time to prepare," Tabrizi-Reardigan added.
Defence lawyer Aaron Fox, who participated in the proceedings via telephone, said he understands the circumstances and expressed no concern about adjourning the hearing to a later date. Judge Janet McIvor concurred, stating all parties will be back in court Sept. 11 to determine their availability as well as the availability of the witnesses. A new date for the hearing will be decided at that time. The judge also apologized to the handful of people in attendance Friday morning.
"This has been an exceptional circumstance, as you can see," McIvor said. "Everyone has been taken by surprise and I do apologize to the people who have travelled here from La Loche. This obviously came with no notice."
Meanwhile, outside the courthouse, La Loche mayor Robert St. Pierre shared his concerns about the matter being prolonged even further.
"It is a surprise," St. Pierre said. "We want to move forward, but we're delayed again. Like the judge said, though, it's an exceptional circumstance and some things are just out of our control. It's been a long, drawn out process, but we in La Loche really want to get to that next step and to start our healing journey. The families (of the victims) really want to get on with their lives – it's hard on the community."
St. Pierre also said he understands how the judicial system sometimes takes time.
"If you want to move on, you have to get to that point," he said. "We're not at that point yet and now it's going to be just that much longer. It could be October before we get t the final arguments and then we'll have to wait again for the rendering of the decision. Then, as we get closer to Christmas, we're practically at January and that much closer to the anniversary (of the shootings) and the anxieties start percolating again."
While he understands this frustration, Tabrizi-Reardigan reiterated the importance of ensuring all aspects of the case are prepared as thoroughly as possible before moving forward.
"We're going to take the date all parties are available and continue once that date is picked," he reiterated. "We're definitely committed to getting this done as soon as possible. It is extremely unfortunate and we do have in mind, of course, the victims, the families and the community of La Loche. But, it's very important every single stage of this case is prepared as well as possible and that requires time."
Tabrizi-Reardigan is also uncertain, at this time, if he will be taking over as the lead prosecutor in this case.
"We are deciding that right now, but more will be known in the coming weeks," he noted.
The shooter, who cannot be identified because he was a minor at the time of the incident, pleased guilty to killing four people and injuring seven others during a shooting spree Jan. 22, 2016 in La Loche. He can only be identified if sentenced as an adult. If this happens, he could also face life in prison. A youth sentence carries a maximum term of six years in custody and four years under supervision in the community.