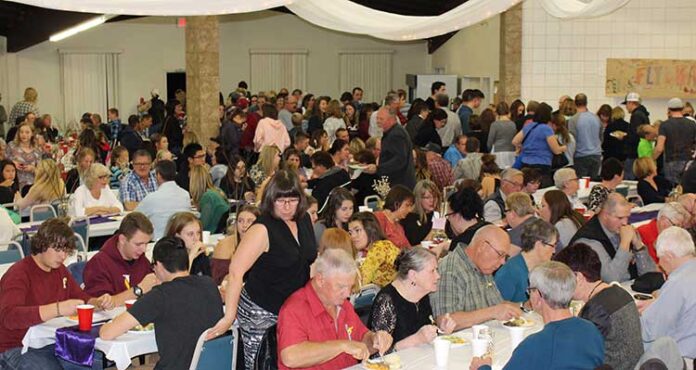 By Derek Cornet
It was an unbelievable occasion for Rita and Troy Johnson and their daughter, Hana, as they watched the Meadow Lake Civic Centre fill to capacity via webcam.
"Hana had the brightest smile on her face and just all the warmth and the comments we could hear people saying were just really heartfelt," Rita Johnson described. "We hooked the computer up to our big screen TV and we got to watch the event that way. It was heartwarming, overwhelming and unbelievable. It brought a lot of joy and tears to us."
The benefit occurred Oct. 23 and included a dinner, silent auction and a comedy show to raise funds for 19-year-old Hana, who was diagnosed with a rare form of brain cancer in February. She underwent surgery the next month to remove the tumour, but the family recently learned the cancer has reoccurred in her spine.
One treatment the money raised at the event could go toward is an expensive drug approved by Health Canada for various cancers, but not Hana's. The family has obtained a prescription for the medication, but it comes at a cost of about $8,000 per month. Called BRAF targeted therapy, it has shown to treat brain cancer, but is not funded under the provincial drug plan.
"All the money raised will go to getting Hana the best treatment we can," Rita Johnson stated.
In total, 520 people bought tickets for the benefit and organizers said another 200 could have been sold if they had a larger venue. While it was unknown by press time how much money was raised, it's expected tens of thousands of dollars was generated.
"It's easy to say it will bring in excess of $25,000, but I think it could be higher than that," explained organizer Dawn Ethier. "It's not surprising at all. This is typical of Meadow Lake and this is just what we do – people support each other. When there's a family in need and someone steps forward, everyone else jumps on board."
As a close friend of the Johnsons, Ethier said she felt compelled to do something to help. She had been involved with other benefits in the past and decided holding one with a comedy show including Meadow Lake's Dakota Ray Hebert would be a good idea. Ethier noted, whenever she visits the Johnsons, comedic shows or sports are always on TV.
"If Hana can't be here, I thought I would try bring what Hana enjoys," Ethier said.
The Johnsons have lived in Meadow Lake since the early 1990s and together Troy and Rita have four children.