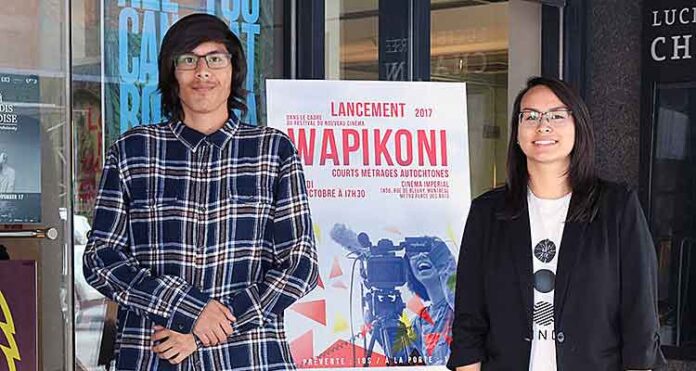 by Phil Ambroziak
Clearwater River Dene Nation student Sinay Kennedy's future as a filmmaker is off to an exciting start.
Kennedy, a Grade 12 student at CRDN School – along with friend and fellow student Damian Haineault – recently returned from Montréal where they attended the Festival du Nouveau Cinéma for the screening of a short film they co-directed earlier this year.
"The whole experience was made possible through a mobile film company called Wapikoni that visited Clearwater River back in July," Kennedy explained. "While they were here, they offered two positions – one of which was local coordinator. I applied and was successful, but also had a chance to work on my own film project. Damian and I co-directed the film, titled The Wistful."
The film, which features no dialogue, has been described as the poetic journey of a young artist who carries the heavy burden of a creative mind. According to Kennedy, her goal in making the film was to not give away the storyline. She wants film viewers to connect with the character in their own way and come up with their own theories of what they think the story is about.
While a community screening of The Wistful was held in Clearwater during the summer, it was Wapikoni officials based in Montréal who selected it to also be part of their presentation at the recent film festival.
"It was very exciting," Kennedy added. "This was my first film festival. Damian and I attended Oct. 12 (the event ran from Oct. 11-13) and, although The Wistful didn't win any awards, it was a great opportunity to meet and talk with so many different people in the filmmaking industry."
Haineault agreed.
"I'm quite surprised to see our film be selected to compete in such a prestigious festival," he said. "Making the film was a journey in itself, but it was such an amazing experience to attend the festival."
Kennedy has been making her own home videos since she was 11 years old. It's a hobby she's enjoyed doing with friends and something that eventually led to her creating her own YouTube channel in 2013.
"Since working with the people from Wapikoni, I've really had a chance to improve my skills and I am very grateful they came to Clearwater River," she said.
Kennedy's mother, Sharon Kennedy, accompanied the teens to the festival.
"It was an amazing experience to be a part of this film festival," Sharon Kennedy stated. "It gave them both great exposure as filmmakers. We are told their film will be entered into other film festivals worldwide and, if selected to compete, Sinay and Damian might have a chance to attend film festivals as far away as Berlin, Germany. Sinay is already talking about two more film projects she would like to start working on… This is just the beginning. Our family has even nicknamed her Sinay Spielberg."