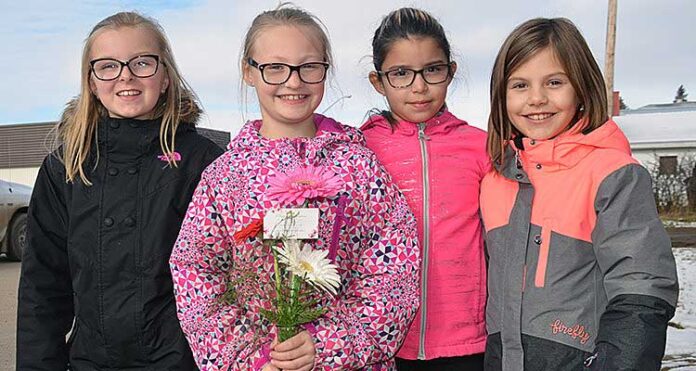 by Phil Ambroziak
It's nice to help others.
That's one of the biggest lessons being learned by students at Lakeview Elementary in Meadow Lake this year where 50 Grade 4s have already signed up for the school's Cluster of Kindness group.
"The group first came together last year when we successfully applied for and received a $1,000 SaskTel 'I am Stronger' grant," explained Lakeview's wellness coordinator Nicole Munroe. "We used the money to purchase flowers and randomly deliver them to anyone we felt was deserving."
Munroe went on to say the project received such strong feedback, she decided to apply for the grant again this year and, again, Lakeview was successful. Since launching the initiative, Lakeview students have delivered flowers to countless recipients including the elderly, foster parents, cancer survivors, the Door of Hope and more.
"We want to bring a little joy to the people who do so much, but who don't always get the appreciation they should," Munroe said. "We've also delivered to such places as the North West Friendship Centre and the RCMP detachment, and every time we make a delivery the recipients cry. The kids just can't get over that."
The students completed their ninth delivery of this school year Friday afternoon (Oct. 27). Munroe said, although this year's numbers are only slightly higher than the 48 kids who took part last year, it's not surprising the effort remains a popular one amongst all those who participate.
"The majority of the kids really do get it," she noted. "They're taking some of their time to make other people happy and to simply brighten up their day."
Lakeview principal Dawn Paylor agreed, noting the club also has a positive impact on those who take part.
"I believe it's really opened the eyes of the children in terms of learning to respect one another," Paylor said. "When they go into the community and show respect and kindness, that same kindness and respect comes back to the school in terms of how the students feel about each other."
Meanwhile, there are 405 students enrolled at the K-4 school this fall, which is around the same as last year. In years prior, however, that number averaged between 380-390.
"Our enrolment has increased slightly, partly because our Pre-Kindergarten program is filled to near capacity," Paylor added. "Our numbers increased so much, the division even provided us with another teacher for this year."
And, like all the other instructors currently at Lakeview, that teacher is female.
"It's true, we don't have any male teachers this year," Paylor confirmed. "Whenever we post teaching positions at our school, we always have more female applicants than male. It's just the way it works out. It would be great to have male role models in the building and we have in the past, but for every one male who applies at least 10 females apply. We always interview the best candidates based on their résumés and previous experience. This is just how it worked out this year."