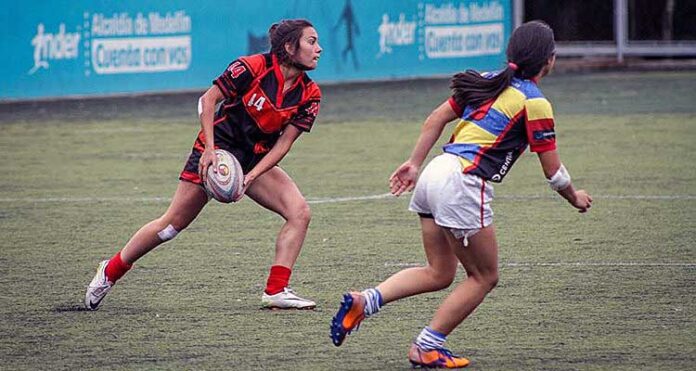 by Phil Ambroziak
Meadow Lake's Skyla Russell will never be the same.
Recently, the teen returned to Saskatchewan after nearly 10 days teaching and playing rugby in Colombia. It was an experience she said she won't soon forget and one she believes has made her a better person.
"I was in Colombia Oct. 29 to Nov. 6 to play international rugby as a member of the Dog River Howlers from Regina," Russell explained. "It was a life-changing experience to say the least."
In addition to the rugby component of her trip, Russell and her teammates also had an opportunity to interact with children and others from the South American country. The Howlers are made up of players and supporters from all parts of Canada who believe rugby is more than a game, but a way of life. The club tours parts of the world, plays rugby and enjoys unique cultural experiences, while also giving something back to that country's sport and/or people.
"Before I went, I looked for donations so I could bring stuff to the people and the kids in Colombia," Russell continued. "On the second day, we met with the Life by Life Foundation in Medellin, Colombia. We brought with us some of the donations we'd collected and, as it turns out, we brought more than any other past groups combined."
Each day, the Howlers also took part in two, two-hour rugby practices.
"We also competed in a few games, one of which was against the national team," Russell said. "Before that, however we brought in some rugby equipment and taught some basic rugby skills to the kids. It was a lot of fun. If I ever have the opportunity to go back, I'd definitely do it all over again. I view life so differently now. Life is so different there than what we're used to here."
As for her interest in rugby, Russell was a newcomer to the sport when she joined the Meadow Lake SheDevils shortly after the team's debut a few short years ago.
"I joined about halfway through the season and fell in love with it right away," she noted. "A lot of the girls I met with in Colombia have been playing for years and here I was only having played for about a year-and-a-half. Still, it was a very memorable experience. I can't thank Rufas (SheDevils coach Rufas Crawford) enough for what he's done for the sport, for the SheDevils and for me."
Crawford, meanwhile, described Russell as a fantastic athlete.
"She has won medals at the national level in wrestling," Crawford said. "She is very strong in track and field, and is quite a curler. Skyla caught on to rugby very quickly, and soon was a step ahead of many of the drills during SheDevils rugby practice. Having a chance to train with high level coaches, and play at an elite level is exactly what she needs and deserves. Skyla will have learned more about rugby in one week in Colombia than most rugby players will learn in a season."