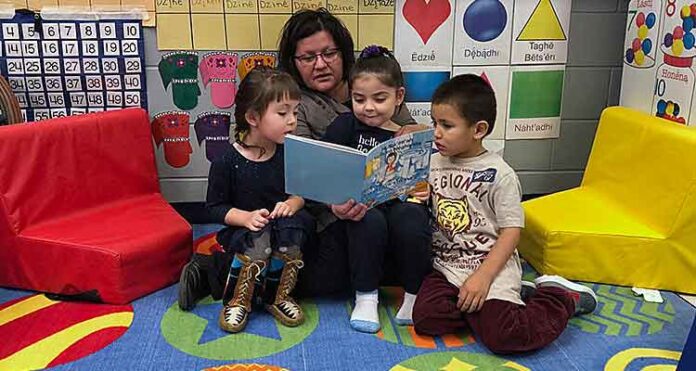 by Phil Ambroziak
No matter what language they're written in, the books of renowned children's author Robert Munsch continue to enlighten and entertain.
That's how the staff at Clearwater River Dene Nation feel, and that's why – to help celebrate a milestone at the school – they recently had Munsch's popular book Love You Forever translated into the Dene language. According to principal Mark Klein, the books will be distributed to families throughout the community in early 2018.
"It's all part of the 10-year anniversary of the establishment of our Dene immersion program here at the school," Klein explained. "In addition to the Robert Munsch book, we're also having all the road signs and signs at our school redone to include Dene. The celebration will be capped off with a community feast some time in early January during which time we will present a book to each family in our community."
Klein said the decision to have Love You Forever translated – a book that tells the story of the evolving relationship between a boy and his mother – ties in well with the school's wellness program that, in part, focuses on the importance of the circle of life.
"That is a message we need to get out to our community," Klein continued.
The book was translated by CRDN school employees Lisa Cheecham and Sally Lemaigre, and printed by Northern Pride Publications. Special permission had to first be received from Munsch himself.
"We contacted him through his website and Robert was very good about the whole thing," Klein said. "He gave us his full support and said he believes any effort to translate his books into a First Nations language is a worthwhile initiative."
Klein noted the idea behind translating a Munsch book dates back to early this year when he attended an educational conference and discovered a school in British Columbia had done something similar.
"It was a good idea for us to do this," he added. "Our program is recognized internationally because there are so few immersion programs for indigenous languages. Our program is such a source of pride for our community and we are truly trend setters when it comes to bilingual education."
Some time next year, there are also plans to have the translated book both read and sung on a local TV station.
"This has been a very important project for our school and for our community," Klein said. "And, seeing as the Dene language is somewhat new to print, we did a lot of back-and-forth proof reading to make sure everything is right. With the Dene language, there are many interpretations in terms of how to spell certain words. But, I'm sure we got it right."