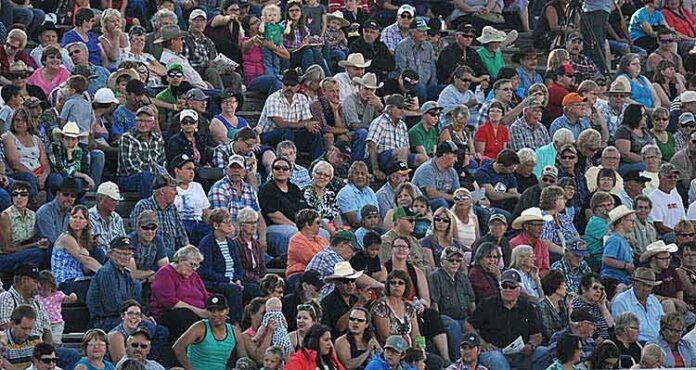 by Phil Ambroziak
The historic grandstand in Meadow Lake may not be down for the count just yet.
Upon learning about city council's recent decision to close the seating area at the Meadow Lake Stampede Grounds to the public because of safety concerns, a group of local residents are banding together in an effort to find a way to address the grandstand's current state of disrepair and prevent the community from permanently losing what they feel is an important part of Meadow Lake's history and tradition.
"The grandstand is important because it is so historical," stated Loretta King, who is spearheading local efforts to save the grandstand. "So many memories have been made there – not just at the grandstand but at the Stampede Grounds themselves."
King – whose father, chuckwagon driver Daniel King, retired from the sport this year – said she felt the need to take action after reading about council's decision online, as well as the numerous complaints made by fellow Facebook users about the situation.
"A lot of people were complaining, but no one was saying 'let's do something,'" she added. "So, I put it out there and the response has been great,. There are a lot of community-minded people in Meadow Lake."
During its regular meeting Nov. 14, city council voted not to repair the grandstand but instead to close it to the public. Every two years, the grandstand requires an engineering assessment. In 2015, this assessment called for repairs of $36,000 to the structural beams, a cost that was offset by a donation from the Meadow Lake Lions Club. This year's assessment, however, indicates the need for additional repairs in the range of $15,000 or more. Meanwhile, the Lions Club did not renew its contract with the Canadian Professional Chuckwagon Association (CPCA) for 2018 because of the current condition of the grandstand.
"We're still early in the game as far as what will happen, but we do plan to meet in the near future to throw some ideas around," King said. "The grandstand has been around for many, many years, while chuckwagon racing and the stampede have been a big part of our community for just as long. Something needs to be done."
During the recent council meeting, the city also approved holding a public consultation on the future of the facility some time in 2018.