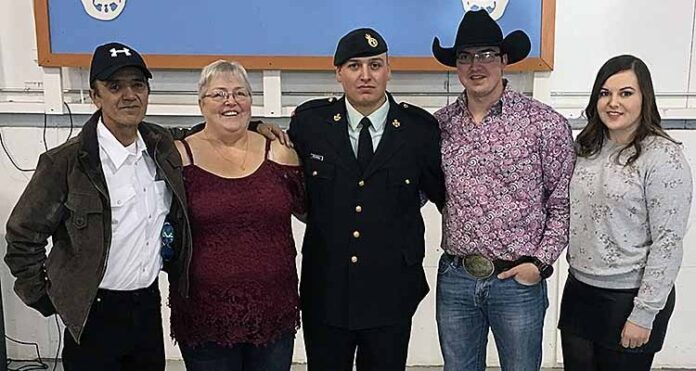 by Phil Ambroziak
Sometimes in life, it's best to just follow your dreams.
That's what Meadow Lake's Dean Poitras – a private with the 2nd Battalion (2VP) Princess Patricia's Canadian Light Infantry – did when he joined the Canadian Armed Forces one year ago, and it's a decision he hasn't regretted ever since.
"Technically, my career began in December 2016," Poitras explained. "That's when I was sworn in – Dec. 12, 2016. After that, it wasn't until March of 2017 when I was sent to basic training in St. Jean, Quebec. It was a 13-week course that turns you from a civilian to a military member. After that, I was sent to my trades training – another 13-week course, this time in Wainwright, AB. My trade is an infanteer, the job description for which is to close with and destroy the enemy."
Currently, Poitras is stationed in Shilo, MB, but was back in Meadow Lake to visit family and friends during the holidays. He said there were a few experiences throughout his life that encouraged him to join the army.
"When I was younger, I was always big into it," he said. "My brother, Dale, friend Brett Leclaire, and I would always go buy those little toy guns from the dollar store and go into the forest to play 'army guys'. I was also always big into army shows. I got the movie Black Hawk Down for Christmas one year – it's just something I've always had an interest in. As I grew up, it was always in the back of my mind."
After graduating from Carpenter High School in 2014, Poitras attended college for two years. After discovering he was unable to find work in his area of study, however, he ultimately decided to fall back on his long-time love for the military.
"I also didn't want to live with the regret of never trying it, so at that point I decided to apply," he added. "I love my country. Every day I wake up, put on my uniform and there's the Canadian flag on my left shoulder. It just reminds me of what I'm doing and who I'm serving. It's something we all take very seriously in the Forces."
Poitras went on to say the military is a viable career path for anyone uncertain of what path they'd like to take in life.
"And, you don't just have to go army," he said "There's the navy, the air force, but if you do go army, you don't have to be a combat trainee. You can be a nurse, a supply tech, all sorts of things. If you want to go to school, the army can help you do that. If you want to become an officer, you can go to Kingston (Royal Military College) which (Meadow Lake's) Carson Waterman is currently doing. You can get schooling that way, serve your years and, when it's time, you can get out and pursue a civilian career in something you're already trained in. A lot of the skills you learn in the military will transfer over to whatever else you do."
A chance to see the world
While he has yet to be deployed overseas, Poitras said he will welcome the opportunity when it presents itself.
"Another big reason why people join is it's a chance to see the world," he noted. "Before I enlisted, I'd never been on a plane before. So, my first-ever time on a plane was when I went to Quebec. I never thought I'd get to see Quebec, but I've been to Montreal. I also got to visit the Canadian War Museum in Ottawa, and there's training coming up at the Arctic Circle. Not many people can say they've had the chance to possibly go there. You don't hear a lot about it in the news, but there are also a number of places around the world where Canadian soldiers are taking part in missions – places like Latvia and Poland, training missions. If I ever have a chance to go to places like that, I believe it would be a great opportunity."
As for the potential danger involved with being a service member, Poitras said it's all part of the life choice he has made.
"Fear definitely crosses your mind, but I joined the infantry because I want to be part of the fight, to be there, boots on the ground serving my country the best way I know how," he said. "We don't want war, but when there is we'll do our best to win it."
Poitras' mother, Joyce, also has concerns about her son's safety, but added she would never discourage his decision to join the military.
"It's not the career choice I would have preferred for him, but I will always stand behind him, no matter what he does," she said. "I'm very proud of him and of where he is in his life. He's a very strong guy who will do the best he can do. When he was in school, his teachers, his coaches all said he gave 110 per cent. That's what he'll do with the army too – give 110 per cent."
Poitras, meanwhile, said he is grateful for the support of his family and friends.
"Not seeing them for long periods of time is tough, but I had 21 days back home for the holidays," he said. "It's been nice. Whenever I come home, I revert back to 17-year-old Dean again, I chill at home and enjoy having mom and dad looking after me. It's nice."