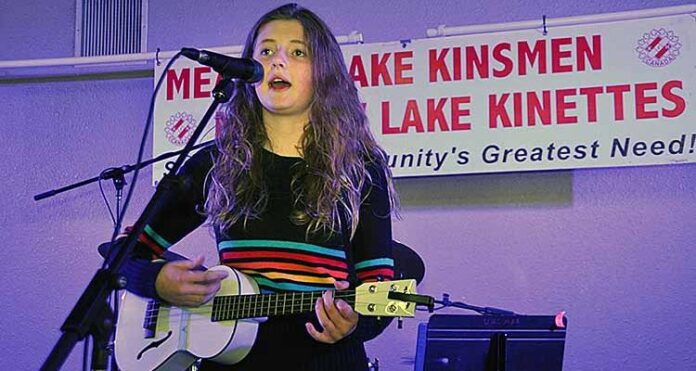 by Phil Ambroziak
The North will be well represented at Telemiracle 42 when the popular telethon hits the airwaves from Regina March 3 and 4.
Of the 60 acts scheduled to appear on the annual broadcast, five are from the region – the most in recent memory to appear in the same year.
"This year, we auditioned more than 130 people for our Telemiracle acts," explained Telemiracle producer Ian Roach. "It's always a challenge to decide who will be on the show. We score all the acts we see, and pretty much everyone we saw this year scored high enough to be on the show."
Roach said this goes to show just how dramatically talent throughout the province has increased and why it was such a struggle to narrow that number down to 60. Talent from Saskatchewan's North this year include vocalists Atlanta Jane of Goodsoil, Karis Oscienny of La Ronge, as well as the piano-vocal duo of Lisa Taylor and Katelynn Schellenberg of Loon Lake, and guitarist and singer Payton Getz of Meadow Lake.
"I'm pretty excited to be able to perform at an event that raises money for such a good cause," the 12-year-old Getz said. "It means a lot to me."
Getz is a self-taught musician, beginning two Christmases ago when she received the gift of a ukulele. She went online and taught herself how to play and, six months later, got a guitar and taught herself how to play it as well. She does, however, take voice lessons here in town.
She began performing publicly a year ago when she participated in a variety show. From there, she's taken to the stage several times, including performances at the Northwest Trade Fair, Music in the Park, the Festival of Trees, the recent Jonas Idol contest at her school and more.
"This will be her biggest performance yet," her mother, Heather Getz added. "She'll be performing Landslide by Fleetwood Mac."
Getz's mom went on to say her daughter has a unique kind of folk sound and, even though she's only 12, her musical interests do not include modern pop.
"She has a love for the '70s, '80s and '90s rock – the good stuff," she noted.