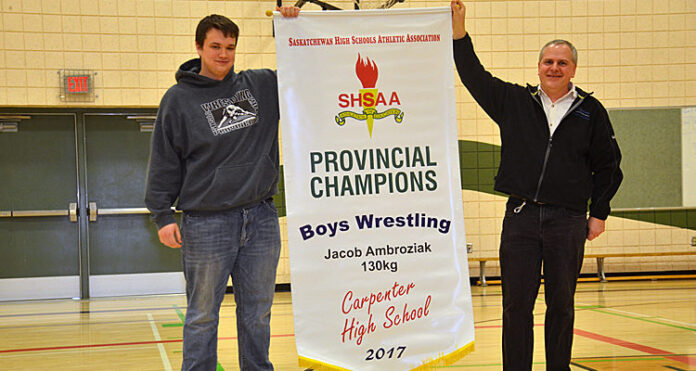 by Phil Ambroziak
It was well worth the wait.
That's how Carpenter High School Grade 11 athlete Jacob Ambroziak, his friends, family and teammates felt when they attended a special ceremony at CHS Thursday (Jan. 11) at which time Ambroziak was presented with a personalized banner recognizing his 2017 provincial wrestling championship.
"If you take a look at the back wall and the side wall, CHS is really well known for its athletics throughout the Province of Saskatchewan," remarked vice-principal Kendra Paramchuk about the championship banners from past years already adorning the CHS gymnasium wall. "Some of you might know people who have their name up on this wall or maybe your parents were part of a certain championship team back in the 1980s. As an athlete, your goal is to get up on that wall, and – as a student athlete – that's quite an accomplishment. Today, we get to recognize one athlete who has made Carpenter High School history."
In March of last year, Ambroziak went undefeated to earn gold at the Saskatchewan High Schools Athletic Association (SHSAA) provincial wrestling championships in Warman, SK. It was the first time a wrestler from CHS ever laid claim to a provincial title.
"It's quite an accomplishment because not too many student athletes can say they have their individual recognition on the wall," Paramchuk added.
Ambroziak's wrestling career began when he was in Grade 8. His parents convinced him to try the sport out as a member of the Northern Pikes Wrestling Club and, after a few practices, he realized how much he enjoyed wrestling and, soon, how successful he was becoming.
"Now, after a few years in the sport, a lot of practices and a lot of training, Jacob has earned the top spot in high school wrestling in the heavyweight category," Paramchuk continued. "Jacob was able to beat many Grade 12s when he was in Grade 10 to win that gold medal. And, not only did he earn a provincial title for our high school, he also went on (the following month) to nationals and earned his first national title with the Northern Pikes in the cadet category."
Meanwhile, Northern Pikes coach Chris Brownrigg was quoted as saying, after achieving so much, some athletes would be tempted to put their feet up and take it easy.
"But, not Jacob," Brownrigg noted. "During the summer, he attended the University of Alberta annual wrestling camp in Jasper and was also recognized there as one of the top athletes."
Described by his coaches and parents as the Gentle Giant, Ambroziak – Paramchuk said – is also a great sport, polite and very soft spoken.
"Not only does he have a pennant and a gold medal, but he's also a student with a heart of gold," she said. "Congratulations, Jacob. Your coaches, peers, teammates and parents are proud of you, and we can't wait to see where your wrestling career takes you next."
Living up to his reputation, Ambroziak didn't say too much during the presentation, although he was all smiles throughout.
"I felt very accomplished, and getting a banner was one of my main goals during my high school years," Ambroziak said in a subsequent interview. "I'm happy I will be remembered in the school forever, or for as long as the banner stays up. I also feel honoured to represent my school in future competitions."