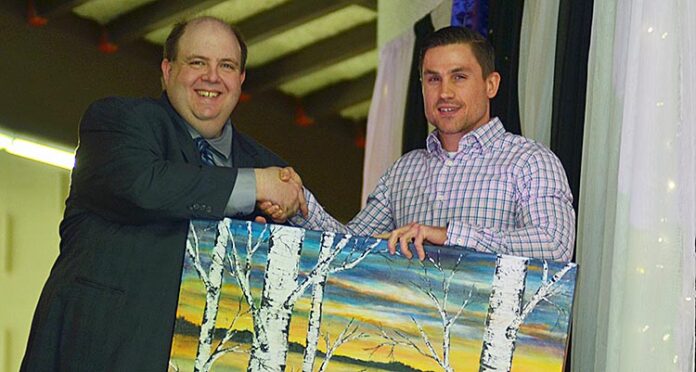 by Phil Ambroziak
It wasn't an easy list to come by, but the Meadow Lake and District Chamber of Commerce has found its Business Excellence Award winners for 2018.
The 14th annual MLBEX event took place last night (March 21) at the Meadow Lake Civic Centre with five awards handed out in various categories. Winners include: Alicia Lehoux, who was named the 2018 Volunteer of the Year; Racquel Singson from the Meadow Lake Housing Authority for Best Customer Service; Jessie Wilcox and Glenda Wuttunee from Miss J's Donair Eatery in the Aboriginal Business of the Year category; Tammy Dancy of Willow Creek Artworks for Small Business of the Year; Doris Young who was named this year's Community Builder and Tolko's Meadow Lake OSB Division, which was named 2018 Business of the Year.
"MLBEX is important because it allows exceptional people from the business community to be able to stand up and be recognized for the exceptional things they have done all year long, as well as for others who have always done exceptional things for the community," explained Chamber president Gerald Pohl.
In spite of this, Pohl said it was challenging this year because of a lack of nominees for the respective categories. While a few categories did see multiple candidates, others – three to be exact – saw more than one name put forward, but only one in each accept the nomination. This automatically qualified them as this year's winners.
"In some cases, the individuals or businesses whose names were put forward contacted me to say they could not be there that night and said it would not be right for them to accept the nomination if they could not attend," noted Chamber administrator Adrian Ouellette in a recent interview. "It can also be tough sometimes because many of those who are nominated feel there is someone else who is more deserving."
This was echoed by Pohl, who said modesty often gets in the way of recognition.
"Many businesses, especially in smaller communities, aren't big on standing up and cheering for themselves," he said. "That's what makes an event like MLBEX so important because it allows for that opportunity and to recognize those who do well."
Pohl went on to say, although it was rather challenging to complete the winners' list this year, this is nothing new.
"Over the years, we've had quite a few refusals for this very reason," he said. "That just means, however, we have to find a way to think outside the box going forward. Obviously it should be an honour for anyone to be nominated because these businesses and individuals are being recognized by their peers."
Pohl also said there have been several nominees both this year and in past years who have been extremely excited to be nominated for a MLBEX Award.
For more on this year's MLBEX winners see the March 29 edition of Northern Pride.