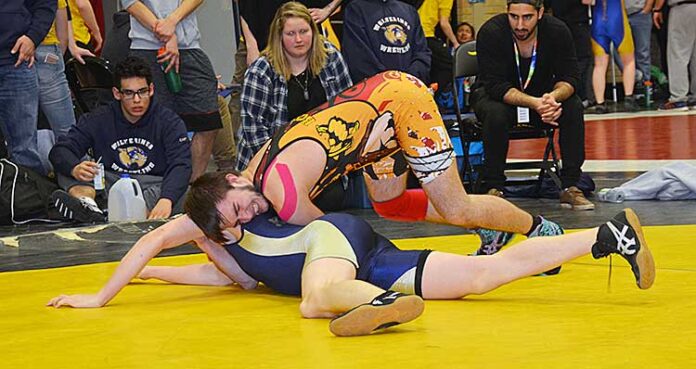 by Phil Ambroziak
It's all come down to this.
With both high school and club provincials now in the history books, Meadow Lake and area wrestlers have one more competition to close out the 2017-18 season… and it's the big one.
"The next stop for the Northern Pikes Wrestling Club's top wrestlers is Edmonton, " explained wrestling coach Chris Brownrigg. "The Wrestling Canada Lutte U17 and U19 National Championship will take place April 12–15."
Leading the team will be two-time high school provincial champion and 2017 Cadet national champion Jacob Ambroziak who will be competing in the male 130kg category.
"This year, Jacob steps up to the U19 age class and will face Canada's best with teammate and North American Indigenous Games champion Gabriel Regnier (male 58kg)," Brownrigg continued. "Club provincial silver medalists Brenton Cataract and Skylar Barden will make their national championship debut, while Tavin Bear will look to build on his high school provincial bronze medal. Parker Vandale-Niccolls is also ready to break through to the podium."
On Saturday (March 31), Barden, Cataract, Regnier and Bear represented the Northern Pikes at the U17 and U19 Provincial Club Championship in Regina. As noted, Cataract earned a silver medal in the male 92kg category as did Barden in the female 57kg division. Regnier, meanwhile, captured bronze and Bear, Brownrigg said, gave an outstanding performance avenging a previous loss at the high school provincials held two weeks earlier.
"The heart of the team heading into nationals, however, is Logan Boser," Brownrigg remarked. "He will finally get his shot on the national stage after suffering back-to-back season ending injuries in 2016 and 2017. But, you can't keep this warrior down. Even when injuries prevented him from wrestling, Logan would come to every practice to listen, learn and support his teammates. When I think of who deserves to be a champion, Logan is high on the list."
Boser, who competes in the male 80kg category, is also looking forward to finally having the opportunity to test his mettle against some of the best Canada has to offer.
"It feels good to finally make it to the elite level with zero injuries," Boser noted. "It's great to have such amazing coaches who provide us with these opportunities. It's going to be a good learning experience."
In spite of his desire to see Boser claim a national championship, Brownrigg said it isn't going to be an easy task.
"These wrestlers are part of a team, but must step on the field of battle alone," he said. "This dynamic creates great athletes and even better citizens. They learn early preparation is the key to success, whether in sport or in life. As coaches our greatest reward comes from watching athletes overcoming obstacles and reaching new highs. To do so they must risk failure to become better at their craft. The willingness to risk failure and the emotional strength to learn from losses builds awesome young women and men. Meadow Lake can be proud of these seven national challengers – they have become the inspiration for our next generation of Northern Pikes and Carpenter High School Spartans."