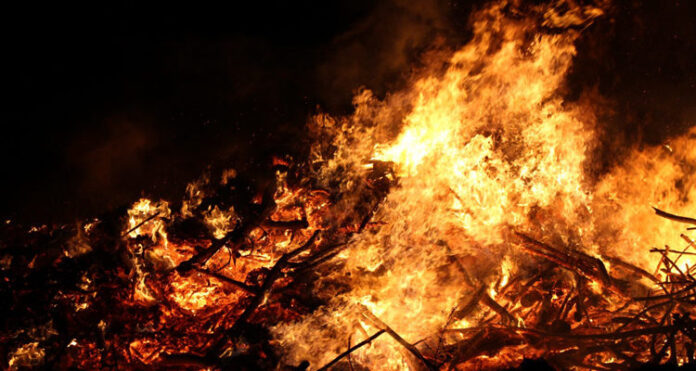 by Phil Ambroziak
A legacy built by generations lost in a matter of minutes.
That's how Judi Foster, president of the Flotten Lake cabin owners' association, described how the ongoing Tuff fire impacted the one part of the Meadow Lake Provincial Park that means the most to her and to so many others.
"The Tuff fire started near Waterhen, eventually jumped Highway 904 and – when the wind direction changed – Greig Lake was put on alert for evacuation last Thursday or Friday," Foster explained. "From what we understand right now, however, is the fire that hit Flotten Lake came in from the east and the south… We got the call yesterday (Sunday, May 20) informing us Flotten Lake was in jeopardy."
By the late afternoon, Foster was aware some cabins were burning, but said Wildfire Management was unable to provide further updates because the area was impossible to access due to the severity of the blaze.
"This morning (Monday, May 21), I spoke with Robin Van Koughnett and Colette Schmalz of the Meadow Lake Provincial Park, as well as Jeff Hendry of Wildfire Management," Foster continued. "They asked me for the phone numbers of the various Flotten Lake cabin owners, while I also sent a mass email informing the owners all 13 cabins had been destroyed."
Foster went on to say many of the cabins at Flotten Lake were built as far back as the 1970s and had served as multigenerational summer dwellings for a number of people.
"My dad owned our cabin before we did – most of them had been handed down from one generation to the next," she said. "There was one family, however, that just bought their cabin this spring, but never had a chance to enjoy it. This whole thing has just been so shocking and surreal at the same time – it's difficult to believe we don't have these places anymore. They've been in the same families for 30 years or more, so this news is very traumatic."
Because most of the cabins were handed down from the previous generation, Foster said it's difficult to estimate how much each building was worth. But, she did note the last two cabins to be sold came with a price tag of $250,000 to $350,000.
Meanwhile, a spokesperson with Wildfire Management could not be reached by press time, but Foster said, to her knowledge, the Tuff fire is still considered uncontrolled.
"Jeff Hendry informed me it's difficult for them to get in front of it," she said. "It's now headed north-northwest."
In terms of what happens next, Foster said – as part of the mass email she sent – she has instructed cabin owners to contact their insurance providers as soon as possible.
"I would like to rebuild, but at this point I don't know what all the rules and regulations are because it's Crown land that was leased to the cabin owners," she added. "This has just been so devastating for everyone."