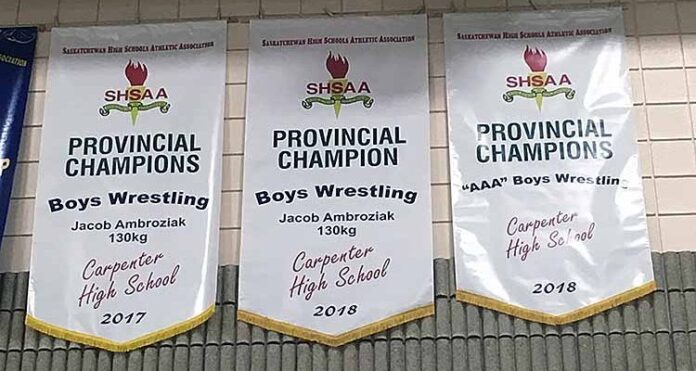 by Phil Ambroziak
It was déja vu for students, staff and special guests at Carpenter High School in Meadow Lake last Friday (June 15).
"It wasn't too long ago we had Jacob Ambroziak up here to present him with a provincial wrestling banner for his gold medal win in 2017," remarked CHS vice-principal Kendra Paramchuk during a banner presentation ceremony held in the school's gymnasium. "He not only did it one time, but two. Carpenter High School would like to congratulate Jacob for his repeat provincial championship. Jacob was recognized for his outstanding wrestling season with another gold medal and now with another banner to hang in our gym. He's worked hard physically and mentally to capture that provincial championship, and has grown into such a strong leader, teammate and continues to mature as a key figure in CHS' wrestling program. Most of you know Jacob for his kind smile, but we all know Jacob has the ability to turn on that competitive drive to strive to be the best he can."
Ambroziak, a Grade 11 student who also earned a national title in 2017, was given the honour of unveiling both his provincial banner from 2017 and the new one he earned in March of this year. He was then joined by his teammates as they unveiled a third banner, this one awarded to the CHS boys wrestling team for earning the most points at this year's provincial event in Saskatoon.
"It was a thrilling experience to reveal the banners in front of the entire school and to share the stage with my teammates," Ambroziak noted.
Also in attendance for the ceremony was wrestler Natasha Kramble, an RBC Olympian and two-time national champion. She spoke to students about her wrestling career and about overcoming fear to achieve her dreams. She also shared her thoughts on the success of Ambroziak and his fellow CHS wrestlers.
"For me, it's extremely meaningful to be here," Kramble said. "Wrestling is a sport that doesn't get a lot of publicity or glory. Nobody wrestles for those reasons, but to be able to be present when young wrestlers are being recognized by their entire school is huge."
Kramble said this sort of recognition is encouraging for the future of the sport. As an RBC Olympian, she was also pleased by the fact Ambroziak attended RBC Training Ground events earlier this year in both Saskatoon and Winnipeg where he was recognized for his wrestling skills, as well as by representatives from Judo Canada.
"Going to events like RBC Training Ground is a first step in identifying areas you may be skilled in, but may not have thought about," Kramble added.
Ambroziak said he was pleased Kramble – who was in Meadow Lake for the annual Kinsmen Sports Dinner – was able to attend the ceremony.
"She is a great inspiration having been an accomplished high school wrestler herself who has gone on to do even bigger and better things in the sport," he said. "I can't wait for next year's wrestling season to start."
As for the banners, CHS wrestling coach Jason Guenther said they're a sight he never thought he'd see.
"It's still sinking in a little bit because I've been looking at this gym wall for about 12-plus years and there's been nothing for wrestling before," Guenther said. "It's nice to not only break the ice and get a banner up there, but three banners is even more significant."