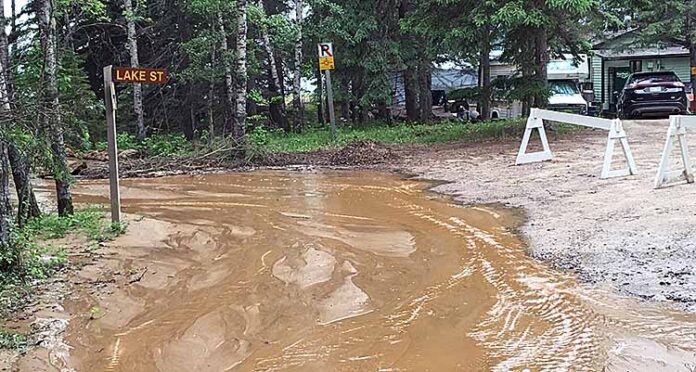 by Phil Ambroziak
Mother Nature has not been kind to the Meadow Lake Provincial Park as of late.
After surviving a severe wildfire that destroyed 13 cabins at Flotten Lake, the park more recently had to deal with water woes that resulted in the temporary closure of the popular beach at the Greig Lake campground.
"With the big storm a couple weekends ago, we experienced six to 11 inches of rain throughout the park and Greig Lake was no exception," explained park manager Robin Van Koughnett. "We got such a downpour, it washed out part of the road from the west edge of the Greig Lake store down to Lake Street. It also washed out part of the beach in two locations."
The beach remained closed as of this week's news deadline, but a contractor was scheduled to be on site this week to repair the damage.
"Hopefully he can get things fixed up and back to normal as soon as possible," Van Koughnett added. "The beach was closed for safety reasons because the excessive rainfall created two trenches in two different spots along the beach. Meanwhile, with the contractor working there, it means there's going to be all kinds of equipment in the area and we don't want people getting hurt. We also don't want to impede his efforts."
High winds and torrential downpours were experienced throughout the region both June 9 and 10, resulting in power outages, as well as moderate to heavy damage to property. According to Environment Canada, Meadow Lake alone experienced 42.8 millimetres of rain and winds up to 106 km/h. The storms came about when a low pressure system blew in from southern Alberta and collided with a cold front also cutting across the region. Because that cold front wasn't moving, it resulted in a series of thunderstorms over an extended period of time. In the park, the high winds also took down a number of trees at the Sandy Beach campground.
"There wasn't much else in the way of damage, so we got lucky this time," Van Koughnett noted.
Van Koughnett also said June is usually a fairly slow time at the park, so the beach closure isn't expected to affect as many people as it would if the storm had occurred later this summer.
"Things usually pick up once the school year is over, so we're hoping to have everything back to normal by the July 1 long weekend," he said.
Those who were affected by the closure, however, were students from Meadow Lake's Gateway Elementary School. Classes were scheduled to visit Greig Lake three days this week for year-end trips and, while those outings still went ahead, they had to be modified slightly.
"There's a south beach at Greig Lake we're taking our kids to instead," explained Gateway principal Greg Ackerman. "The students are still doing all the other activities as planned. They're visiting the interpretive centre, doing some nature art and playing mini golf, but we're taking them to the south beach to swim. It's a nice little area, so everything worked out well for us in the end."