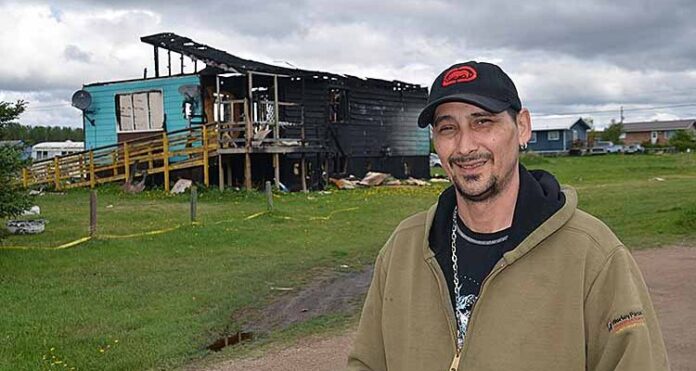 by Phil Ambroziak
The recent actions of a Flying Dust First Nation man have him adjusting to a fitting yet unfamiliar title – hero.
A house fire May 19 destroyed a home located at 10 Amisk Rd. on Flying Dust First Nation, but not before Kevin Desjarlais was able to rescue up to five children from the blaze's fury.
"I live two doors down and was just waking up around 11:30 a.m. when I heard all the commotion outside," Desjarlais explained. "I went onto my deck to see what was going on. That's when I saw the house on fire and people running around on the front lawn screaming there were kids in the house."
After watching for a moment, Desjarlais said it did not appear as though anyone was taking action, so he did.
"I put my game face on, ran over and kicked the front door in," he said. "I'd say about 25 to 30 per cent of the house was on fire by that point and, thankfully, the fire started at the back of the house and hadn't made its way to the front door yet. When I got the door open, there were about five or six kids there – I don't know why they couldn't get out themselves – but there they were. A few of them walked out at that point, but the others were too scared. So, I grabbed them and started sandbagging them out to other guys who also showed up to help."
Those who assisted Desjarlais were Elvis Desjarlais and Nick Ducquette, while the children, Desjarlais added, ranged in age from about four months to 16 years. He also said the fire department arrived about 15 minutes later and, by that time, the fire had reached the front door.
"I've been a forest firefighter for the last seven years, but decided to take this year off," Desjarlais said. "I believe this was the reason for that."
Meadow Lake Fire and Rescue was called to the scene around 12:06 p.m. and remained at the fire until 4 p.m. The house – the home of a family of eight – was a total loss, but no injuries were reported. Meanwhile, FDFN band councillor Tyson Bear said the family is currently staying with relatives at Eagles Lake First Nation until a suitable home is ready for them at Flying Dust.
"The world would be a better place if everyone went just a little out of their way to help other people," Bear said.