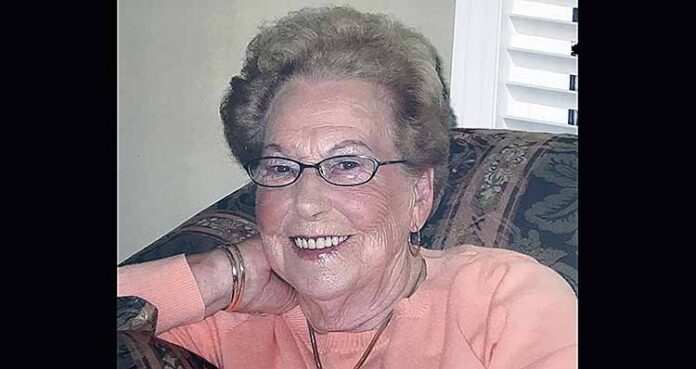 by Phil Ambroziak
Flags were flying at half-staff outside city hall last week to honour a woman who many say played a significant role in shaping Meadow Lake into the community it is today.
Florence Clark, who served on Meadow Lake town council from 1970-74 and who served as the community's first and only female mayor from July to October in 1974, died May 25. She was in her 99th year.
"On behalf of council, I offer my condolences to Mrs. Clark's family," stated current Meadow Lake mayor Gary Vidal. "She was such an important person to the history of Meadow Lake. Along with being the first and only woman in our community's history to serve as mayor, the Clark family in general holds a significant place in Meadow Lake's beginnings, which is quite a legacy in itself."
Born Florence Lavoie, Mrs. Clark came to Meadow Lake from the Tisdale area. She was working as a registered nurse when she met and married Grover (Goog) Clark. Together they had three children, Gordon, Debbie and Allan.
"One thing we've all been reflecting back on is the fact Mom was someone who was able to raise a family while also maintaining quite an active level of community involvement," Allan Clark said. "We have always been proud of her accomplishments and, even though she was always very humble about it, she certainly contributed in a number of different areas."
His sister, Debbie Clark-Ballantyne, echoed this.
"In addition to serving on town council, Mom was also very active in the Meadow Lake Racing and Sports Association (Stampede Association) where she served as parade marshal and chair of the queen contest committee," Clark-Ballantyne said. "She was also a member of the fundraising committee for the first artificial ice rink in Meadow Lake, a member of the regional library board, the Saskatchewan Cancer Commission, and she was justice of the peace here for many years, as well as a member and chair of the Meadow Lake Hospital Board."
Mrs. Clark was also a member of the Order of the Eastern Star and an active member of the local business community.
"After our father's death, she looked after all the Clark businesses," Clark-Ballantyne continued. "There was Clark's Store, Clark Fisheries, C & M Airways and we had a feedlot she was a big part of. As a registered nurse, she also became matron of the old hospital, which is now the site of Meadow Manor."
In spite of her busy schedule, to the Clark children, however, she was always Mom.
"Our mother was very dedicated, first and foremost, to her children and did everything she could to make sure we were looked after and happy," Allan Clark said. "She led the life of an independent woman and was very progressive in her thinking. We were all very proud of her."
In recent years, Mrs. Clark even made headlines by speaking out against the provincial government's plans to cut library funding. A long-time library patron, Mrs. Clark enjoyed listening to books via audio CD and felt the government's planned cuts were wrong, but was pleased when the funding was restored.
"I believe her opinion played a significant role in the government rescinding that decision," noted Mrs. Clark's son-in-law, Brian Ballantyne.
A celebration of life was held for Mrs. Clark Saturday (June 2) at Grace United Church.
"We appreciate her service to our community as both a municipal councillor and as mayor," Vidal reiterated. "To be the first and only woman to hold that office is a fairly major accomplishment."