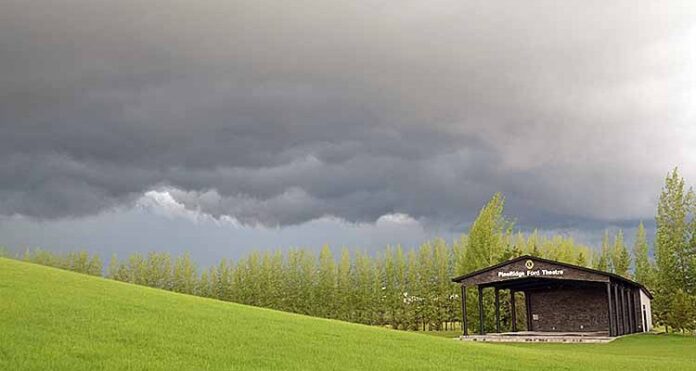 by Phil Ambroziak
Mother Nature was not smiling on Saskatchewan's northwest this past weekend.
High winds and torrential downpours were experienced throughout the region both Saturday and Sunday (June 9 and 10), resulting in power outages, as well as moderate to heavy damage to property from Meadow Lake to Makwa and beyond.
"It was actually a series of thunder showers that went over the region again and again for two days straight," explained Terri Lang, a warning preparedness meteorologist with Environment Canada. "In those two days, Meadow Lake experienced 42.8 millimetres of rain, which is not an insignificant amount. It was quite a bit of rain that fell and it was difficult for the ground to absorb it all because so much came so quickly. On top of this, there were also 106 km/h winds that blew through, not only in Meadow Lake but throughout much of western Canada. A large area was affected by these storms and a number of communities were blasted by high winds."
Lang went on to describe the entire situation as the "perfect weather setup" for major thunderstorms to occur.
"A low pressure system came in from southern Alberta that fed into a cold front that also started cutting across," she stated. "When the two of these collided, it resulted in massive thunder showers. Because that cold front wasn't moving, it led to storm after storm, again and again and again all in the same place."
While Environment Canada did not have any figures available with regard to the amount of rain that fell in nearby Makwa, that community's mayor, Jerry Graham, said it was enough to cause problems throughout the village.
"It got quite serious," Graham said. "Pretty well every house in town experienced some water damage. It just came up so awfully sudden – at one point the entire road (Highway 304) was flooded."
The flooding eventually receded, but Graham said it isn't common for something like this to happen in Makwa even when there is heavy rainfall. He believes a dam may have broken loose south of the community, adding the municipality will investigate the matter to ensure it doesn't happen again. Meanwhile, Graham has been in touch with his insurance company and has had a bio-clean crew at his home to help sort out the mess.
"My sewer backed right up into my basement, which I believe also happened to most houses in town," he added. "To my knowledge, this is the first time anything like this has really happened around here."
Meanwhile, in the North, Ile-a-la Crosse reported about 24 millimetres of rain on the weekend, while Buffalo Narrows reported closer to 29 millimetres.
Lang also said it doesn't look like any more major storms will hit the area this week, but high winds could still be present in the Meadow Lake area reaching speeds of up to 80 km/h.
"If there's any cleanup you need to do from the weekend's storms, you should do it quickly because the winds could still cause even more damage to any already-broken branches or other debris still lying about," she said.
Among the many things left "lying about" after the weekend storms were several large fertilizer bins at both Cavalier Agrow in the Meadow Lake industrial area and at the Meadow Lake Co-op fertilizer plant north of town.
"We had 13 fertilizer bins tip over at the local fertilizer plant just north of town on Highway 55," noted Curtis Ebach, Ag Division manager at the Meadow Lake Co-op. "They can't be reused or sold now – they're garbage. They're just an insurance claim now – that's what they'll be."