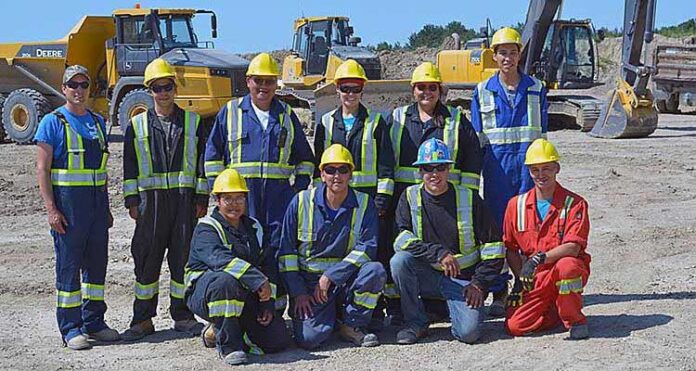 by Phil Ambroziak
The Meadow Lake Tribal Council (MLTC) isn't afraid to build opportunities for its people.
Recently, nine students from most of the MLTC bands completed a first-ever heavy equipment operator program offered by the tribal council through the Saskatchewan Indian Institute of Technologies (SIIT). This introductory program provides training in the operation of heavy equipment, routine maintenance of machinery and practical field operations of excavating, land clearing, grading, and road building, as well as safe-operating techniques specific to each machine.
"It's an SIIT program the Meadow Lake Tribal Council bought into," explained instructor Chris Mazuren. "The 10-week program included one student from each of the nine MLTC First Nations with the exception of Birch Narrows. The goal was to train at least one person from each of the MLTC bands in heavy equipment operation."
The first round of students graduated June 22, while a second program is to begin soon.
"The program involved one week of classroom work, and a half-week safety class," Mazuren added. "The remaining eight-and-a-half weeks was hands-on training at Flying Dust Gravel where they learned how to use four different pieces of machinery."
The students started on a rock truck before moving on and learning how to operate a wheel loader, a crawler and a tracked excavator.
"We start them on the rock truck because, with most entry level positions – especially at the oil patch – that's what they would be operating," Mazuren said. "From there, they would graduate up to the other types of equipment."
Mazuren also described the program as the first step toward bigger and better things for all participating MLTC bands.
"In terms of each individual community, there isn't a lot of options available," he noted. "For example, Ministikwan Lake doesn't own any heavy equipment and relies on contractors to do any work that's needed. Hopefully this program, as well as future programs like this one, can help these communities become more self-sufficient and allow them to start hiring their own people and bringing in their own equipment."
He also stated, industry is welcoming graduates of similar programs with open arms. One person who hopes this proves true in her case is Lacey Fontaine of Clearwater River Dene Nation. She travelled the furthest to be a part of the recent program.
"It was challenging, but once we got started Chris said the only thing that would hold us back would be ourselves," Fontaine remarked. "He also told us, if we put our minds to something, we could do it and he was right. Being a heavy equipment operator wasn't something I really thought of too much before, but I do have past experience working in camps. During that time, however, I never had an opportunity to jump on any of the equipment because I wasn't trained. It was a big adjustment for me to be so far away from home that long, but, it's provided me with more future opportunities than I would have had if I had stayed at home."
Fontaine plans to seek full-time employment, but hasn't had any job opportunities yet.
Mazuren also said the students aren't the only ones who gained something from the program.
"Personally, it's given me my own sense of accomplishment," he said. "I've built bridges all over Saskatchewan, but never have I felt so much self-achievement than I do when I see these students accomplish their goals."