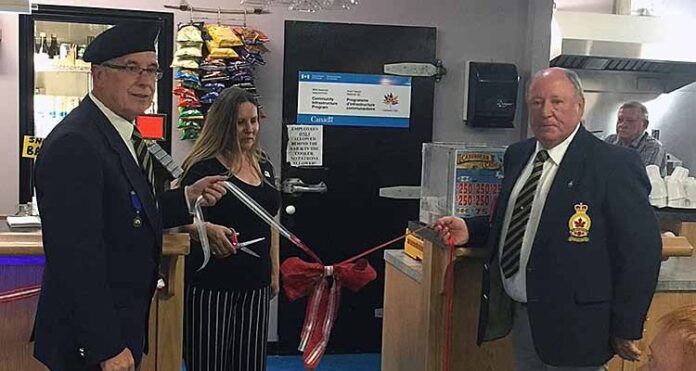 by Phil Ambroziak
The Royal Canadian Legion may have been founded in 1925, but that doesn't mean its Meadow Lake branch can't benefit from a little bit of modern upkeep.
Earlier this month, Royal Canadian Legion Branch No. 76 celebrated the completion of a recent renovation project made possible through local fundraising efforts as well as a grant provided by the Government of Canada. The money was used to complete both cosmetic improvements, as well as important infrastructure upgrades in an effort to not only keep the building up and running but to also attract more patrons.
"About two-and-a-half years ago we applied for federal funding for renovations," explained Legion treasurer Dennis Baldinus. "They paid for half the renovations through this funding, while we've been doing all this work over the last two years."
In addition to the installation of a new bar and new flooring, the building received new paint, saw its walk-in cooler repaired, insulated sinks put in place along with the cleanup of mildew which formed as a result of water issues.
"The total bill was just under the $60,000 mark, so we received just under $30,000 from the government," Baldinus continued.
To mark the completion of the project and to recognize the government for its contribution, the Legion held a ribbon-cutting ceremony and fish fry June 16. On hand for the occasion was Susan McKenzie, assistant to Desnethé-Missinippi-Churchill River MP Georgina Jolibois.
"Georgina could not be there because she was still in Ottawa at the time, but it was a pleasure to be a part of the Legion's festivities," McKenzie remarked. "It was a family affair that included people of all ages. It was very exciting to see everyone from young children and babies to seniors in attendance for both the fish fry and ribbon-cutting ceremony."
Baldinus agreed, adding he would like more people to realize the Legion is a family-oriented organization.
"A big reason why we did the cosmetic stuff is, well, you always try to make it eye candy so people go there and and say, 'gee, this is a nice place,'" he noted. "There's a misunderstanding about the Legion. It's really family-oriented and we also provide a lot of donations in an effort to help our community. Last year, for example, we organized the entire Canada Day celebration for Meadow Lake. Sure, we got a pat on the back for it, but I don't think the majority of the community understands the amount of work involved and how much effort is coming out of that little Legion. It's a lot more people-friendly and a lot more user-friendly than a lot of people realize."