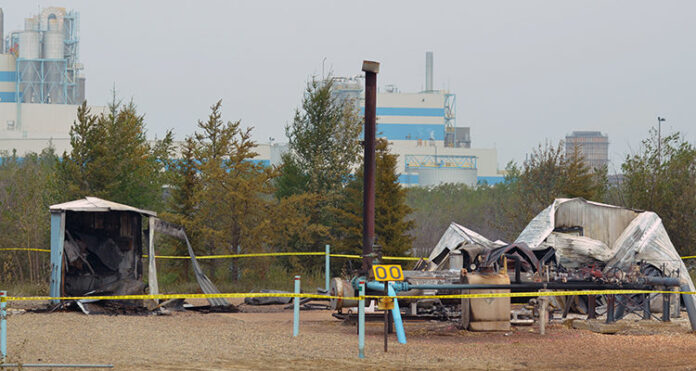 by Phil Ambroziak
A natural gas fire was enough to knock Meadow Lake Mechanical Pulp down, but not out.
According to Kathy Cloutier, director of corporate communications with Paper Excellence Canada – the company that owns the local pulp mill – a full return to production was anticipated to occur yesterday (Aug. 22) following Friday afternoon's fire that resulted in the site being evacuated and traffic re-routed by police.
"At approximately 3:25 p.m. Aug. 17, Meadow Lake Mechanical Pulp was made aware of a natural gas leak and fire at a gas pressure reducing station building south of the pulp mill, but still on mill property," Cloutier explained. "The station is operated by SaskEnergy."
As soon as the fire was discovered, pulp mill management immediately evacuated all non-essential employees and continued to monitor the situation. Meanwhile, the RCMP issued an evacuation notice for a one-mile radius, establishing road blocks on Highways 55 and 903.
"As the natural gas supply required to operate the pulp mill was lost, the site went into shutdown status Friday evening," Cloutier added.
Although the mill has since reopened, it is currently being fuelled by compressed natural gas trailers.
"This is only a temporary gas supply for the mill," stated Dave Burdeniuk, director of media and government relations with SaskEnergy. "We're bringing in these trailers every day to serve as a fuel source, but have a temporary station we hope to install by next week. From there, the investigation into the cause of the fire should be complete and we can then focus on redesigning and rebuilding a permanent station."
Burdeniuk went on to explain the purpose of a gas pressure reducing station.
"In this case, the station was designed to do just as its name suggests," he said. "It took high pressure gas off the transmission line and helped reduce that pressure before passing the gas on to the pulp mill for use. It essentially regulated the pressure."
He also said stations such as the one that caught fire feature a line heater to keep the temperature of the gas consistent and to help eliminate any traces of moisture that could be in the gas.
"It's still under investigation, but the fire probably happened around the line heater," Burdeniuk said. "Right now, we're working with our people, as well as fire investigators and energy specialists to further assess the site and figure out exactly what went wrong. This way, we can take the necessary steps to ensure something like this never happens again."
Meadow Lake Fire and Rescue responded to the call Friday and, although Burdeniuk said it took close to 90 minutes before the situation was fully under control, the only real solution to the problem was to turn the gas off.
"When natural gas fuels a fire, it's not typical to be able to put that fire out with water," he said. "You need to stop the gas supply."
He also said for fire to occur in a pressure reducing station is rare.
"We can't really recall when something like this has happened before," Burdeniuk said. "We need to figure out what happened, learn from that and move forward. Our priority right now, however, is getting a pipeline supply back in place for the pulp mill."