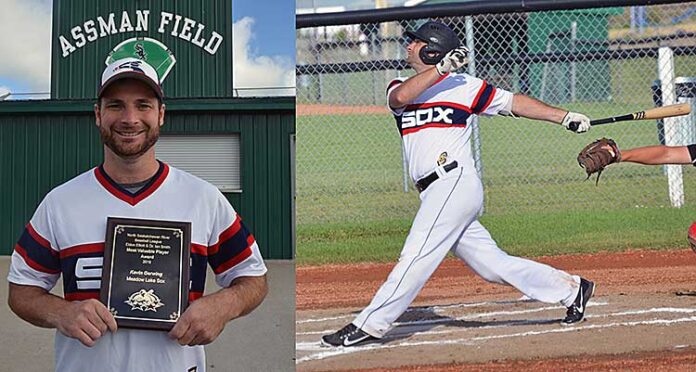 by Phil Ambroziak
Good things come to those who wait.
After nearly two decades being a heavy hitter in the North Saskatchewan River Baseball League (NSRBL), Meadow Lake's Kevin Gerwing was recently named this year's league MVP – an honour voted on by the other teams within the NSRBL ranks.
"It feels pretty good," Gerwing said. "First and foremost, I was voted team MVP by the other members of the Meadow Lake MillTown White Sox, but to be voted league MVP by all the other teams is quite an accomplishment. I've been in the league for a lot of years and this is the first time I've won this award, so it means a lot."
This year, Gerwing posted a .604 batting average with a whopping 29 hits including seven doubles and 21 RBIs. In addition to his contributions on the diamond, Gerwing also plays a key role behind the scenes as Sox team manager. He's been with the Meadow Lake squad since 2010, having previously played with the Border City Blue Jays from Lloydminster after a five-year stint with his hometown team, the Mervin Flyers.
"I'm one of the few journeymen in the league," he said. "I've had a lot of good years and I've always been known to be a pretty good batter, but to have it all come together this year has just been amazing."
Gerwing's teammate, veteran Sox player Craig Weran, agreed.
"Kevin is such a good hitter," Weran remarked. "I've only played with him since he came to Meadow Lake, but I played against him when he was in Lloyd and, from what I've been told, he was a scary hitter even way back when he was a teenager too."
Weran went on to say Gerwing isn't who other teams want to face at the plate when the game depends on it.
"He also does a lot of work as team manager – organizing and planning things, dealing with the city when it comes to the diamond – everything," Weran added. "For the league to recognize him as 'the guy' is a pretty big deal."
Gerwing was presented with a plaque Monday (July 30) and his name has been added to the NSRBL MVP trophy which is kept on display at the Ford dealership in North Battleford.
"All the names of who won this award before are on that trophy, while the plaque I brought home will be a nice little man cave item," he noted.
The Sox were eliminated in the first round of the 2018 NSRBL playoffs, but are gearing up for provincial competition later this month.
"We have a young core group of players we need to develop," Gerwing said. "It's important we go to provincials this year to give these guys that experience."