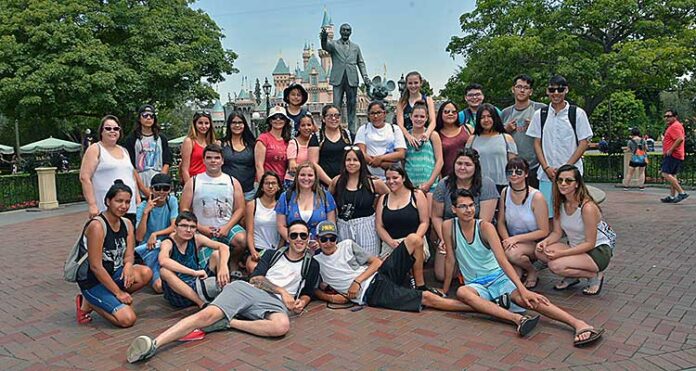 by Phil Ambroziak
A visit to 'The Happiest Place on Earth' was only one of several highlights of a recent road trip experienced by Flying Dust First Nation youth.
From July 7-16, 35 students and six chaperones travelled by charter bus to California where they took in such attractions as Disneyland, LEGO Land, Sea World and more. They even had the chance to take part in a Medieval tournament and dinner, to visit Hollywood Boulevard and Newport Beach during the excursion.
"The trip was an initiative of the Flying Dust education team," explained band councillor Connie Derocher. "It was announced at the beginning of the school year the trip would be for Flying Dust community members in Grades 8-12 as an incentive to help them improve their attendance, attitude and academic performance in school. We chose this grade range as that is where we see a lot of our students face challenges to stay in school."
The students' attendance was monitored monthly, while report cards were also reviewed and Flying Dust staff worked closely with school staff in terms of receiving feedback on the students' attitude and outlook toward school.
"There were many school and home visits that took place to keep our students on track for this trip," Derocher added. "There were many deserving students of this trip and some did decline the opportunity. When a few seats opened up in the later months, we presented the offer for parents and family members to join the trip. I previously travelled to all of these places with my family, so the highlight of the trip for me was seeing the excitement and positive energy from the youth and building relationships with them."
Derocher went on to say California was selected as the destination because there is so much to see and do there.
"At this age you have to choose activities that are exciting and engaging, and all the parks and places we visited offered that," she said. "I'm sure 99 per cent of children dream of going to Disneyland. Although, at this age, young people like to appear calm and cool, I saw some pretty excited teenagers when they met up with certain Disney characters."
Traditionally, Flying Dust Youth and Recreation has taken children from the community on trips to destinations in Alberta and British Columbia. This was the first time they took them across the border.
"Travel is so much more than the destination – it has so many rewards and long-term benefits, especially for young people," Derocher noted. "We travelled by charter bus and drove straight through – no overnight stops, so it was a long 36-hour bus ride. It definitely was a bonding experience for our kids. It was great to see new friendships built on the course of this trip… the trip itself gave them a different perspective on their view of the world. To see palm trees, the Hollywood Walk of Fame and to swim in the ocean was something they may have only thought they would experience on TV. Aside from the wonderful things we saw on our trip, however, we also witnessed unfortunate circumstances such as homelessness and street hustlers. To make this trip a reality took a fair amount of commitment and work from Flying Dust staff, students and families. I would love to see another trip happen in the future, but that would all depend on the students and families willingness to put in the work to make it happen."
The trip was funded by Flying Dust First Nation and the fundraising efforts of the students and families.
"I'm so grateful for all the support our youth received on this endeavour," Derocher said.
Among the 35 students to go on the trip was Maycie Bear, a recent graduate of Carpenter High School in Meadow Lake.
"It was a lot of fun, Bear said. "It was especially nice to see a lot of kids go who wouldn't normally have a chance to go to places like that. The best part for me was seeing the ocean, but there were a lot of sunburns because we weren't used of being in that kind of heat."
Bear said the recent trip was her first time outside of Canada and she felt the concept of rewarding students for their efforts in school to be an admirable one.
"It helped a lot of kids to stick with their work and to show up to class," she said. "It gave a lot of them a reason to go to school, which will benefit them in the long run."