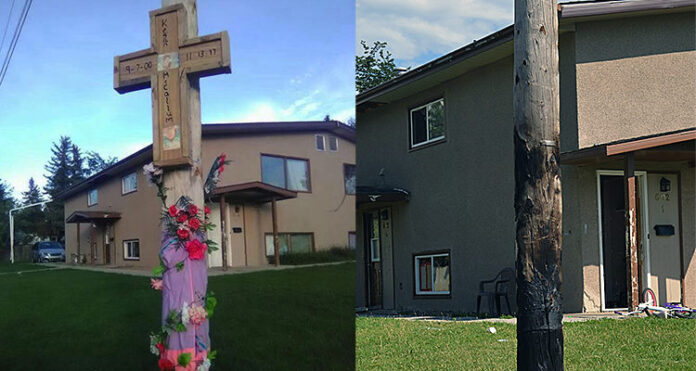 by Phil Ambroziak
A public memorial for a Meadow Lake teen shot and killed at a home on the city's west side last fall has gone up in smoke.
A SaskPower pole located at the intersection of 6th Avenue and 3rd Street West, which for several months had been adorned with a cross, candles, photos and more in memory of the late Kegan McCallum, burned last week, destroying the tribute left by the victim's family and friends.
"A neighbour around the area contacted my sister (Kegan's mother, Leianne Barthel) around 2:30 a.m. Wednesday (July 18) and said everything was on fire," explained Kegan's aunt, Amber Barthel. "My niece and nephew raced over to salvage what they could of the cross – it was a terrible mess."
Barthel went on to note there wasn't much added to the memorial after it was initially put up, but confirmed it did include the cross (attached to the actual power pole), a teddy bear, some candles and the roses from Kegan's funeral.
"His sister had also wrapped her powwow dress around the pole," Barthel added. "She said it would be respectful to do so and, even though I wasn't sure it was a good idea at the time, it did manage to stay up there for several months."
The RCMP were called, but have since confirmed they are not pursuing a criminal investigation into the fire.
"Police and fire attended the scene, but we have no evidence to suggest an offence was committed," noted Meadow Lake RCMP S/Sgt. Tim Sartison. "The memorial had candles burning that could have easily caused the fire – we do not have an active arson/mischief investigation in this matter."
Last week's fire isn't the first time concern's have arisen with regard to McCallum's memorial.
"Two or three months ago, we had an issue with the landlord's helper taking the memorial down even though we had already received permission from SaskPower to put it there," Barthel said. "Yes, the power pole is on private property, but SaskPower gave us permission to build the memorial on and around their pole. After this guy took everything down, we contacted the RCMP and the city bylaw enforcement officer, but were told they couldn't do anything about us putting it there or about him taking it down."
To see the memorial ultimately destroyed, however, has been "devastating" for Barthel and her family.
"We're still not through the court process yet and I'm not even sure if I'm completely through the grieving process because of that fact," she said. "But, it's just heartbreaking to see what happened to Kegan's memorial. I heard his relatives on the other side of the family are looking into getting some sort of stone cross made for him, but I don't know what their plans are for it. I'd like to see something go back up at that intersection because the property there is where he was killed. At the same time, however, we don't want to keep going through this – seeing people vandalize it and such."
McCallum was killed Nov. 13 of last year at the home located at the intersection of the aforementioned 3rd Street and 6th Avenue West. Meadow Lake RCMP responded to the incident around 10:30 a.m. A then 15-year-old male was arrested and charged with manslaughter in connection to the shooting, but later had the manslaughter charge dropped.
A publication ban prevents much detail surrounding the court proceedings to be reported, but the youth still faces other weapons related charges.
Northern Pride reached out to SaskPower to ask if the damage caused by the recent fire would require the power pole to be replaced, but a spokesperson did not respond by this week's news deadline.