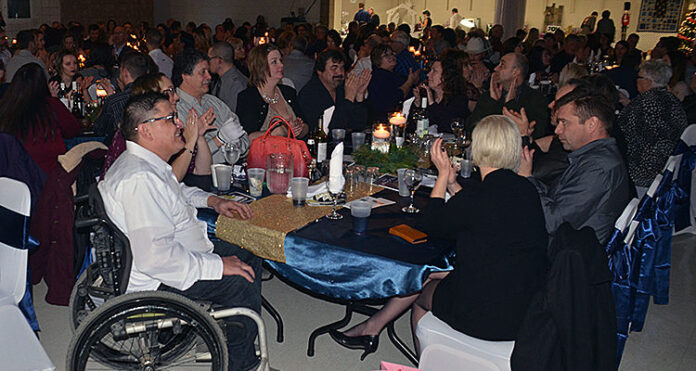 by Phil Ambroziak
It will indeed be a very Merry Christmas for the Meadow Lake Hospital.
While an exact total was unavailable by this week's news deadline, Meadow Lake Hospital Foundation board chair Don Marsh confirmed this year's Festival of Trees fundraiser was the most profitable in the event's 13-year history, generating in excess of $100,000 for the purchase of new and improved hospital equipment. The money will be added to that already collected as part of the foundation's 2018 fundraising campaign.
"This was the most successful Festival of Trees the hospital foundation has had so far," Marsh stated. "The level of support we received from the community both financially and with organizing, setting up and tearing down the event was the most help we've ever had and is also very much appreciated. The Meadow Lake community as a whole should be very proud of itself."
The Festival of Trees dinner – which featured both a live and a silent auction for trees and Christmas decor, as well as other fundraising opportunities – took place Saturday evening (Nov. 24) at the Meadow Lake Civic Centre. There were 250 people in attendance, while earlier that day additional funds were raised through a waffle breakfast and photos with Santa. The money is slated to go toward several purchases for the hospital including a fluid warmer, bronchoscope, colon scope, gastroscope, scope tower, ultrasound probe, baby scale, a fetal Doppler monitor, a treatment cart and more.
"We've hit our target," Marsh continued. "Still, it's important to remember it's not all pure income. We do have some expenses. We try or best to minimize those expenses, but there is no way you can put on a formal function such as the Festival of Trees for free. There is still a fair amount of cost involved."
The event got off to a good start with a $10,000 donation to the foundation from the Meadow Lake Lions Club, as well as an additional $10,000 from the Makwa Lions. This brings the Meadow Lake Lions' total donations to the foundation over the years to close to $200,000 while Saturday marked the third year in a row the Makwa group provided $10,000.
"For a community as small as Makwa, a lot of people over there have their hearts in the right place," Marsh said.
Meanwhile, Dr. Gavin Van de Venter – chief of staff at the Meadow Lake hospital and emcee for the Festival of Trees – encouraged those in attendance to give from both their wallets and their hearts.
"The greatest act a man or woman can do is to serve their fellow man," Van de Venter said. "Service is the greatest calling there is. It's hard to serve because often you're considered a floor mat, but still you're serving and, in this room, we're all blessed and blessed beyond what we deserve and what we need. We're called upon tonight to share our blessings with people who are less fortunate than we are. You might say, 'yes, but I work hard for what I have'. True, but you forget about the blessings you had to get to where you are… being born with the advantage of parents who care for, love you, financially take care of you and set you for life. That sets you apart from other people and, with that, comes the responsibility to serve. I ask you tonight to think about that when you make a bid or you write a cheque. It doesn't sound like much, but it creates a domino effect of being able to buy equipment, bring in more doctors or nurses, paramedical services like physiotherapists and so on. It starts in the room tonight, right here. You're not only helping yourselves, but also those who are less fortunate. There is a thing called karma – when you give, you will receive."
Marsh agreed, reiterating the spirit of giving is alive and well in Meadow Lake and area this holiday season.
"Recognition must be given to the foundation's board of directors who worked their hearts out to make this happen and to the community at large – to anybody and everybody who helped in any way," he said. "When everybody helps a little bit as they are able, great things happen. At this point, I believe we have a very well-equipped hospital and that has made a big difference when it comes to how our community is able to attract and retain physicians and other medical professionals."