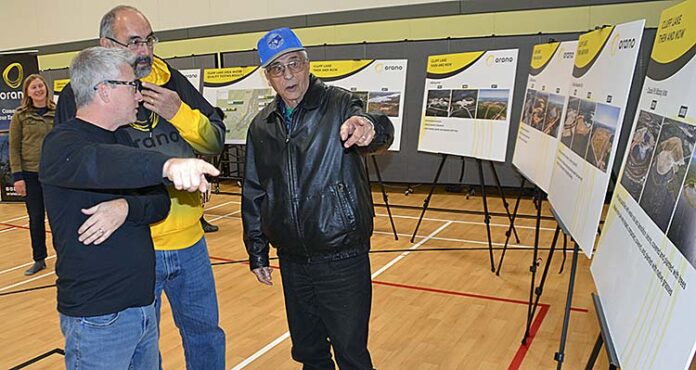 by Phil Ambroziak
Orano Canada Inc.'s efforts to safely and securely decommission Cluff is definitely no bluff.
That's what a series of experts from Orano – the company formerly known as Areva Resources Canada – had to say as they wrapped up a recent tour of northern communities with a stop in Beauval last Thursday evening (Nov. 8) where they met with members of the public to discuss the steps taken to decommission the former Cluff Lake mine site and what's happening now in terms of efforts to turn the land over to the Saskatchewan government.
"We're here to talk about the Cuff Lake project, which was a uranium mining project that produced uranium from 1980 to 2002," explained Dale Huffman, vice-president of health, safety, environment and regulatory relations for Orano Canada Inc. "We completed decommissioning activities, by and large, around 2006 and, for the last 12 years, we've been doing environmental monitoring on the site to demonstrate we've met our decommissioning objectives. At this point in time, we are talking with leadership in the communities and to community members about the status of the Cluff Lake site and the next steps for it."
The former Cluff Lake site is located about 250 kilometres from La Loche, the community that served as the first stop on Orano's tour.
"We're working toward a commission hearing with the Canadian Nuclear Safety Commission (CNSC)," Huffman continued. "That will probably be in June 2019, so we want to get out and communicate about the project in advance of that. At that hearing, we'll be asking to extend our CNSC licence by five years, and subsequently we'll be transferring the property to the care of the province's institutional control program. We're working toward that and we want to talk to people about what we're doing."
Huffman went on to say the province will only accept the property into institutional control if it's safe and stable, and if it meets the standards in place for the decommissioning process.
"We started our tour in La Loche where we met with mayor and council before moving on to Clearwater River Dene Nation for a community open house," Huffman noted. "We've also been to Buffalo Narrows, Ile-a-la Crosse and now we're in Beauval. So far, the meetings have been very well attended. We got a lot of community members out, a lot of people who worked at Cluff Lake at some point in their careers who are bringing their families, looking at our information and asking some really good questions… It's a chance for us to engage with people on a more personal level."
He also said, for the most part, people were understanding of the process and appear to be pleased with what was presented.
"Anybody who has brought forward a question, we've tried to answer it," Huffman said. "We have the technical information to support the work we've done and to support that we've met the decommissioning objectives that were set out for us… Our objective was to make the site safe and stable, and available for traditional site uses. Right now, you can hunt, fish, trap there, collect berries and do other traditional activities."
Five people from Orano – Huffman, the Cluff Lake project manager, communications manager, northern affairs manager and the manager of the company's corporate social response ability function all took part in the open houses.
"During our travels, we've had a lot of one-on-one time with people and I've met a host of former employees who were before my time – tree planters, people who hauled propane to the site, operators, HR people, and it's really nice to hear about that past history," remarked Diane Martens, Orano's health, safety and environment project manager for Cluff Lake. "It also gives me a lot more context as I move the project toward these past steps."
Orano, which is owned by the French government, has been operating in one form or another in Canada for more than 50 years. Since its inception in the 1960s, its been known by several names including Mokta, Amok, Amok/Cluff Mining, Cogema Canada Ltd., Cogema Resources, Areva and, finally, Orano. The decision to cease operations at Cluff Lake was made in 2002, while the decommission process began in earnest in 2004. While operations were winding down at Cluff, the mine employed between 200 and 300 people.
"Going forward, we've already made an application to the CNSC for a hearing," Huffman reiterated. "We'll now be preparing information for the hearing and, within the next couple years, we'll make an application to the province for transferring the site. That could be a few years away, but we put the technical case together and they'll need to digest that case and come to their own conclusions."
Among those to attend last week's open house in Beauval was local resident Jules Roy who worked at Cluff Lake during the mine's early days.
"To start with, I was a carpenter," Roy said. "I later became a supervisor – I supervised about 10 guys and worked in the shop."
Roy said he wanted to see what the Orano people had to say, mainly out of curiosity because of his history with the site.
"I want to hear what they're talking about," he added. "As far as I know, I think they're doing a good job. Of course, since I left the mine I never paid too much attention to what was going on."
Also in Beauval, as well as the other communities Orano visited, was Ron Stenson, senior project officer with CNSC's uranium mines and mills division.
"I'm here to gauge community concern over the site and plan for any outreach I may have to do myself," Stenson said. "This has been a very tidy, following-the-rules process. I'm also pleased with the large turnout from each community we've visited. Most people have simply been curious and very few have had concerns. It's very refreshing to see this level of community interest."